We welcome our new group of students from New Zealand, India, Canada, Usa. We wish them all the best a long future career in kitchen design!
There is no better time to enroll, as Australian dollar is at its lowest in 10 years! Secure now your place , and take advantage of "Free module campaign"(Available for full time , full fee only)
Ask here for an enrollment form:
http://www.kitchendesignacademyonline.net/contact/
Don't forget to like our Facebook page: https://www.facebook.com/pages/Kitchen-Design-Academy-wwwkitchendesignacademyonlinenet/494162340596631

Patricia Urquiola
Designer / Milan / Italy
Patricia Urquiola was born in Oviedo (Spain) and now lives and works in Milan. She attended the faculty of architecture of Madrid Polytechnic were she graduated in 1989 having done a thesis with Achille Castiglioni. From 1990 to 1992 she was assistant lecturer on the courses held by Achille Castiglioni and Eugenio Bettinelli both at Milan Polytechnic and E.N.S.C.I. in Paris. In 1996 she became head of the Lissoni Associati design group, working for Alessi, Antares-Flos, Artelano, Boffi, Cappellini, Cassina, Kartell, and others. On her own, she designs for B&B, Bosa, De Vecchi too, Fasem, Liv'it, Mdf, Molteni, Moroso and Tronconi and designed stands and showroom for Knoll, Moroso, Sag 80, and Somma. Her products have been selected for the Italian Design 2001 exhibition. In 2001 she was chair of the jury for the 19th CDIM Design Award and was lecturer in the Domus Academy. She is currently conducting her professional activity in her own studio in Milan in the field of design, exhibitions, art direction, and architecture. Urquiola is currently working with companies such as Alessi, B&B, Kartell, Molteni, Moroso and VICCARBE.
SALINAS
Modular kitchen, design by Patricia Urquiola (2014) for Boffi
For the first time in Germany, Boffi presents Salinas, the kitchen designed by Patricia Urquiola, and the first kitchen designed for outdoor use Open, by Piero Lissoni.
Salinas is a light and sustainable kitchen. You can see its iron structure, made in a rigorous way and getting a series of supporting and closure materials.
'Several companies have asked me to design kitchens, but for various reasons I have always found it difficult and I never did. Before having my own studio, 15/20 years ago, I used to work with Lissoni, who had already worked with Boffi, a company that I loved so much.
For the wooden countertops I chose oversized boards that can be moved according to your needs, be it cooking or sitting, allowing you to "throw together" a table and say: Let's sit and eat!
We've added a canal with different functions. It keeps the shelves and taps with a very tidy system, but it also includes a drainage system for the cups that can also keep the plants watered. It also contains all the necessary electrical connections and it can be ultimately used as a container.'
In addition to the technical aspects of this project, there is the love for the most sensual of materials, such as solid wood. The fired lava with a geometric relief becomes a tactile element.
The doors are made of thin zinc - nothing has a thickness greater than 6 mm - PaperStone® or copper.
http://www.archiproducts.com/en/d162098/products-patricia-urquiola-p3.html
RIFRA
Italy
PROFILE
Always responsive to market inputs, interpreted with intuition and sensitivity, as it reaches forty years of age Rifra has now achieved the benchmark of "personalised global quality". Design featuring elegantly unfussy shapes and colours, versatility in the items on offer and painstaking attention to materials and finishes, place the Rifra products at a high quality level, meeting the tastes and requirements of a knowledgeable, demanding clientele.
History
1992
The birth of the Gamma collection, featuring a lacqured finish: the know-how relating to the painting and lacquering process.
1993
Rifra started long-term co-operation with Tarcisio Colzani and Castiglia Associati.??Country and Sinstesi series, followed by Woodline.
1995
The UV painting plant was replaced with a cutting-edge robotised plant.
1998
Regent and Zenit, later joined by Fonte.
2001
Construction of a new warehouse and a new building for offices.
2003
Development of collection Fonte as a system of modular furniture in the bathroom. First participation in the iSaloni Milan Furniture Fair. Founders of the Vivendum consortium (Album, Concept, Lema, Lualdi Porte, Matteograssi, Rifra, Schiffini) with an opening of a showroom in Soho, New York.
2004
Opening the first monobrand Show Room in Lucerne (Switzerland). Collection Modus, the new absolute, design Castiglia Associati.
2005
Status, the first Rifra bathtub. Implementing the lacquer area with a new sander robot and a new lacquer robot. Rifra offers to the market 55 lacquer colors and polished wood veneer.
2006
Modus won the prestigious "Home Beautiful Awards" and the "People Choice Awards "in Melbourne Australia. Modus is exposed at Sydney Powerhouse Museum. Presentation of the collection Less, Design Castiglia Associati.
2008
Development sales channel Contract with prestigious high-end projects in international markets. Presentation at the Salone de Mobile in Milan, dele colezioni NEST, FLY and B2K.
2009
Introducing Zero, the program with integrated handles.
2010 and 2012
Intensification of trade fair appearances (Milan, Brussels, Moscow). The factory is modernized with the purchase of new machinery to increase the quality of the product.Presentation of the new general catalog of the company.
Collections:
One
One is a unique kitchen. A monolithic island with perimeter (top, sides and base) at 45° beveled and 30 mm thick. The typical One collection's design is enriched by doors, 45° beveled and 25 mm thick. The interior is matt lacquered, with guides and drawers in stainless steel.
FLY
Its 30°-beveled top and the intentionally over-sized horizontal support characterizes the collection. 45°-beveled sides and doors, 22 mm thick, create a continuous volume. The interior is in black melamine 18 mm, with black drawers' guides.
LINE
Simplicity. This is the key of the Line collection. Clean and linear design. Doors 22 mm thickness and top 20 mm thickness. Interior in melamine black 18 mm and drawers' guides black.
ZERO
The door-integrated handle thick 25 mm characterizes the collection. The top is 20 or 30 mm thick. A modern design mixing beauty and function. Interior in melamine black 18 mm and black drawer guides.
http://www.rifra.com/en/collezione/zero-1.aspx
The Toaster Just Got Smarter
Designer Pierre Schwenke, Lille, France
This functional twist on the toaster maintains the same minimalism as the classic upright toaster, but has some new and improved features! The first is a digital timer screen so you can gauge exactly how long your toast has left. This also means you'll know exactly the right time and heat seating so you get it right each time. The second is a nesting tong built in to the side. It saves fingers from burning and when it's removed it triggers the device to turn off so you never have to worry about accidentally leaving it on!
https://www.behance.net/gallery/21064903/Toaster
Symmetrical kitchen beauty
Slick and symmetrical, this Attard's kitchen was designed perfectly to the brief
Designer: Michael Attard for Attard's Kitchens & Cabinetry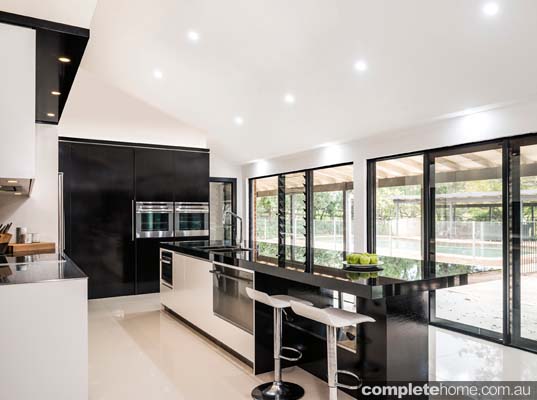 "The client's love of entertaining was the focus for this kitchen renovation. The external wall was extended so the space could accommodate an impressive 4.8m x 1.2m island bench. At that size, and with a 70mm benchtop, it was important to avoid it looking too solid. This was achieved by having an open cavity and an overhang with room for stools along the front, around one end and part of the back. The wine fridge also adds another element.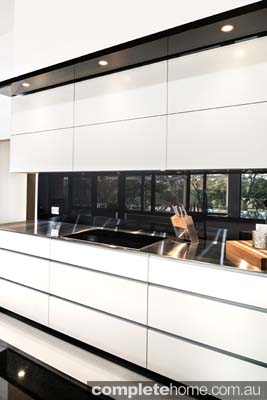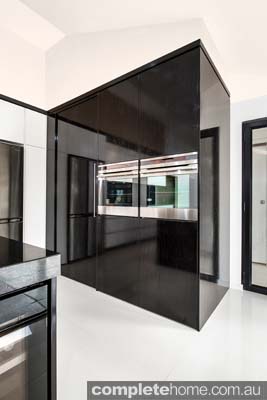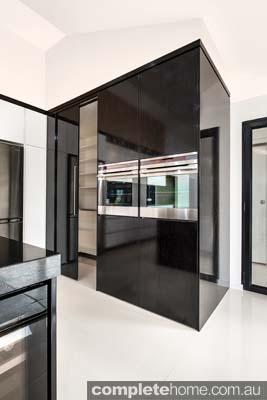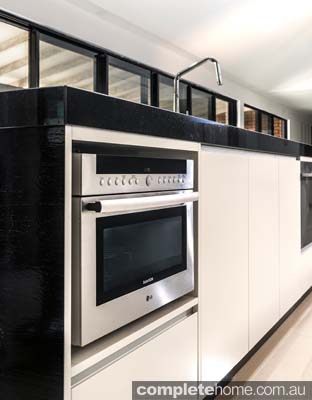 We knew people would rest their feet on the cavity, so we added the stainless-steel top. This ties in nicely with the stainless-steel back benchtop and appliances. There's also a stainless-steel benchtop for the small appliance zone inside the large pantry. It was important that all the high-gloss organic elements — the timber veneer, granite and stainless steel — work together rather than compete for attention. I think we've achieved a good balance between them and the natural white cabinets in a satin finish. The client originally wanted a mirrored splashback but we felt that would be too reflective with the stainless steel, so the black glass splashback was a nice compromise."
- See more at: http://www.completehome.com.au/project/symmetrical-kitchen-beauty/49079.html#sthash.TXXrpMAm.dpuf
PARAVENT
Marble divider element, design by Patricia Urquiola (2012)
Synergy and fusion involving different materials: the properties of glass (ligthness and transparency) are transferred to marble, that in turn mutates its essence. Translucent screens on which three-dimensional and irregular residuals of pre-cut marble slabs unexpectedly appear. Once inlaid in modular wood frames they form the perimeter of the interior.
The marble acquires an unusual relationship with its surroundings by integrating with amorphous materials such as glass or organic materials such as wood and resins. An evident Japanese connotation can be seen in the use of modular panels and partitions screens, tables and furnishing items.
A treasure-chest of wonders, where inlaid screens and translucent kaleidoscopes of colours and surfaces with marble pixel relief patterns are enclosed in wooden frames. Amazing are the surprising Tartan weaves alternating with delicate lace and embroidery, overturning the usual clichéd ideal of heaviness associated with marble. The original combination of marble inlays with fluorescent- coloured wood and frosted clear glass inserts give the screens transparency and lightness, creating eye-catching effects.
http://www.archiproducts.com/en/products/104724/nat-f-use-marble-divider-element-paravent-budri.html
Toyo Kitchens are more than just kitchens. They are art. they are sculpture and they are luxury design all rolled into one product for the home.
Toyo Kitchens
have some of the most decadent and stylish kitchen designs anywhere in the world. They are a Japanese company which have proved to be very popular amongst discerning design enthusiasts from Tokyo to London for many years now. Customers have been wooed by their inspiring interiors, their unique style and their top quality bespoke products.
http://www.toyokitchen.co.jp/en/collection/kitchen/design/04.html
http://www.mdfyw.com/tag/rustic-kitchen-decorating-ideas/