Our course is not only open to future kitchen designers, but to existing ones as well. Half of our students are actually employed kitchen designers who would like to extend and consolidate their knowledge. Take advantage of our promotion and low exchange rate of the Australian dollar and enroll now: http://www.kitchendesignacademyonline.net/contact/
Alfonso Arosio
Milan/Italy
Alfonso Arosio graduated in Industrial Design and Interior Design from Milan Polytechnic University. In 1992 he started collaborating with Cappellini, where he was in charge of Executive Marketing. Thanks to this experience, he acquired know-how in interior design, corporate identity and public relations, and co-ordinated Cappellini showrooms' image worldwide. His collaboration with Schiffini as a consultant dates back to some years ago. Alfonso Arosio is master of engineering at the IED in Milan and is currently developing projects for furnishing companies, interior design showrooms and exhibition stands, in Italy and abroad, as well as interior design projects for dwellings and public premises.
ONE12
One12 kitchen, designed by Alfonso Arosio and Giuliano Giaroli, has a distinctive handless door, opening with a shaping in its upper edge and an aluminium profile. This latter cabinet structural element has been ennobled to become an element of design.
http://www.archiproducts.com/en/products/93283/kitchen-one12-schiffini.html
Tradition and experience, research and technology.
These values to which EUROPLAK inspired since 1972 and today has enabled the company to create reliable projects, the result of a way of producing innovative.
After 50 years of business experience and family Piccioni,EUROPLAK ranks among the leading manufacturers of kitchens in Italy, as well as a manufacturing established itself internationally. A journey of great achievements and developments and a prestigious goal that the company achieved also thanks to the extraordinary power of the human resources and the collaboration of staff at all levels, from design to sales; real added value that allows today to EUROPLAK to boast a large number of loyal customers. The careful design and selection of building materials did the rest, favoring a sudden rise of the quality standard, with the company increasingly directed towards the 'use of alternative materials, safe and non-toxic.
Today EUROPLAK produces and distributes worldwide and his accomplishments range from:
Modular kitchens: solid wood, wood veneer, laminate and lacquered with different aesthetic solutions and with different price ranges.
Modular furniture: suitable to the sleeping area and the living area with countless design solutions and with different price levels.
Furniture to order: to customer demand can produce furniture of all kinds, ranging from the bedroom to the living area, the kitchen, offices, performing all kinds of customizations.
Collections
Comet
Evolution and aesthetic culture in the dream of the good life
Essentia
THE EVOLUTION OF HABITS IN HOME LIVING
The cuisine that combines contemporary aesthetic and functional solutions evolved: timeless quality and innovative design, is a way of life evolved and creative people from superfine taste.
Evolution 3
The system Evolution 3, the flagship model of the collection Europlak, is renewed to propose even more attractive and functional, always starting from strong compositional ideas. A wide range of finishes, from lacquer, matt or gloss finish, the veneer of various types and colors.
From the aesthetic point of view, the model also offers a version of "frame" which, mixed with hi-tech solutions, goes to meet the needs of those who do not like the modern exasperated.
The worktops thick and thin ones by 12 mm, the bright lines and defined form essential volumes and continuous, allowing maximum freedom of composition.
Essential volumes and functional, in which the openings in the throat replace the handles. The exceptional variety of finishes and materials allows the creation of multiple compositions, to meet the needs of all and furnish the kitchen of desires.
Clean lines that describe design objects, designed to enable agility in work and a practical use of the controls. Differentiated elements, greater freedom of installation and multiple function, without neglecting the efficiency of the work plans.
HIGH TECHNOLOGY AND MINIMALISM BEAUTY
EXTRAORDINARY FLEXIBILITY OF COMPOSITION
A STRONG AND FLEXIBLE CONCEPT
Nature
Refinement and elegance in comfort for a kitchen that reinterprets the timeless ways of living home. Details that exalt the kitchen and create high elegance surrounded by romantic atmosphere ...
Earth
Details designed to furnish with the pleasure of classic design. Refined style that expresses a tendency rich technological content, but with elegant shapes embellished with a design carefully maintained and studied with particular accuracy. Precious carvings made in the wooden doors with care and craft experience
http://www.europlak.it/index.php?id=20&itemid=20
Disturbed by the way their ninety-year-old 'Nan' has to struggle in her current kitchen scenario, Product Tank has designed this compatible Kitchen 02. It's compatible in the sense that both the sliver generation and the young-guns can use it easily. Like they say, "This is not a Kitchen for a Michelin starred chef, just an old lady who wants to remain independent and cook herself simple meals."
Features:
The kitchen is small to reduce the amount of movement between areas.
Everything has been designed so that tasks can be performed sitting down.
You can get your legs under the sink to make washing up and preparing food easier.
The sink has a shelf to rest things on whilst you clean them and a moveable divider to split the sink into two areas so you can wash up and still have a vegetable prep area.
You can remove the divider to have one large sink capable of fitting an oven tray.
The prep area is recessed so that if there is a spillage, anyone sat down won't get wet and all spillages can be swept into the sink to make cleaning easier.
There are two boilers.
To use one, you simply engage the plug and fill with water directly from the tap.
The boiler eliminates the need for carrying heavy pans full of water and the risk of pans tipping over, especially when sat down.
Sensors in the sides prevent the boiler from being overfilled or boiling dry.
A light cage holds and drains the food being cooked, or the boilers can be used as steamers.
The boilers are easy to clean and trash eaters take care of any loose bits of food. Taking pots and pans out of the equation is not only a safety feature, but also reduces the amount of storage needed.
The controls are angled to make them easy to read and it's easy to see if they have been left on from a distance.
The dials are easy to grip and the numbering is high contrast.
A bold graphic makes it easy to see which dial relates to which cooking element, without having to look at small awkward diagrams.
This model includes a frying plate and an induction hob for soups and sauces.
These elements are plug and play and can be quickly changed for a variety of options and easily removed for cleaning.
Read more at http://www.yankodesign.com/2012/02/24/kitchen-design-for-now-and-when-you-are-ninety/#VtBk4ZI5H0dACfiv.99
Hamptons luxury kitchen
Drawing inspiration from movies and the Hamptons alike, this show-stopping kitchen by Art of Kitchens stays true to traditional Hamptons design, oozing luxury.
Designer: Liam Murphy for Art of Kitchens
"Inspiration for this Hamptons-style kitchen came specifically from the stunning home in the film Something's Gotta Give. The style is synonymous with light and bright spaces, white timber and panelled walls, wide stained-oak timber flooring (often with a sun-bleached look) and natural colours and finishes, all of which are featured in this kitchen. Recreating the look requires a fine balance of traditional and elegant design with rustic touches and luxury features. Key elements include the face frame detail around each cupboard, the ornate Kirribilli profile of the panels, and the French door glass cabinets. Together with the subway tiles, proud kickboards and cornices, and rustic light-blue hand-painted timber panelling of the open shelving (which also continues inside all the cupboards), the look is solid, opulent and authentic. The level of detail includes the Mother of Pearl handles and proud mounted hinges, added to recreate the look, while Blum soft-close internal hardware provides ease of use. The 1200mm-wide freestanding oven and French door fridge inject luxury into the space, along with the Lightening Brown marble with a traditional ogee edge detail. The original polished slab was honed, which gives it a more natural matt look that works in beautifully with the timber floor, and also makes it less susceptible to scratches and stains."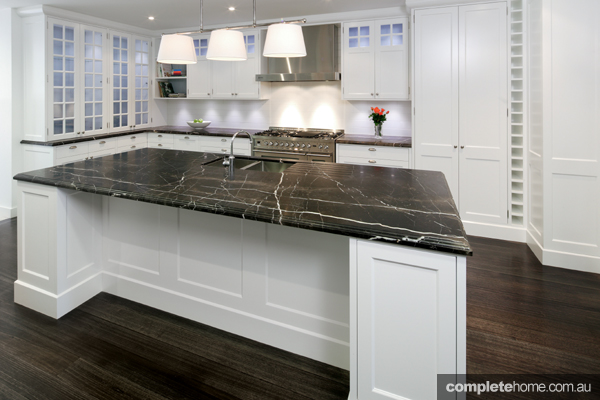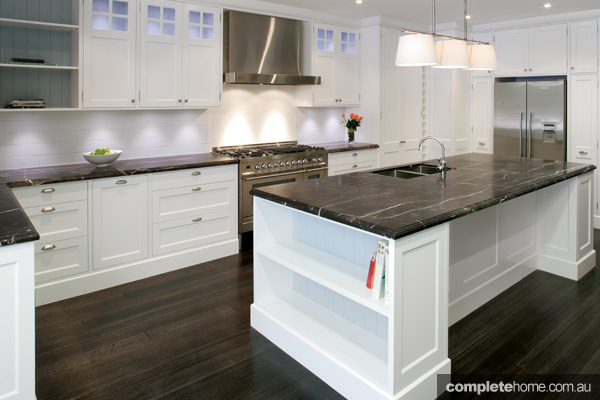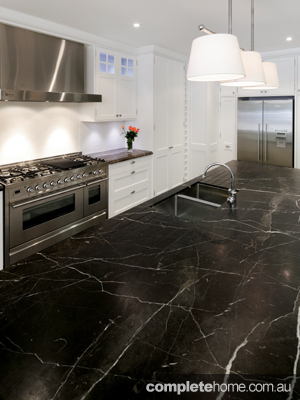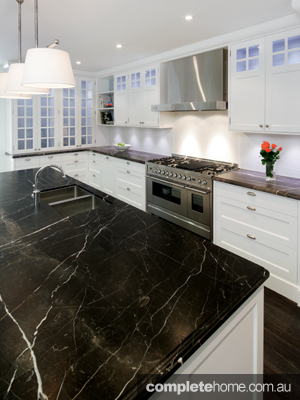 http://www.completehome.com.au/project/hamptons-luxury-kitchen/38922.html#sthash.wju3x56s.dpuf
nendo
M&O PARIS designer of the year, January 2015
Oki Sato, born in 1977 in Toronto, Canada, studied architecture at Waseda University in Tokyo.
He obtained his Master's degree in 2002. In the same year, the nendo studio was born in Tokyo.
Now he has taken up the international stage, with offices in Tokyo and Milan.
Nendo, meaning 'modelling clay', expresses his desire of having certain flexibility and the ability to reinvent oneself. The designer takes his inspiration from Japanese uncluttered style to create a language of his time.
The philosophy of Oki Sato is reflected in his designs, thanks to which he transforms the interactions of people with the objects surrounding them by creating a parenthesis in their life.
This desire is found in the uncluttered and characteristic shapes of his designs, to which he always adds a touch of humour and conviviality.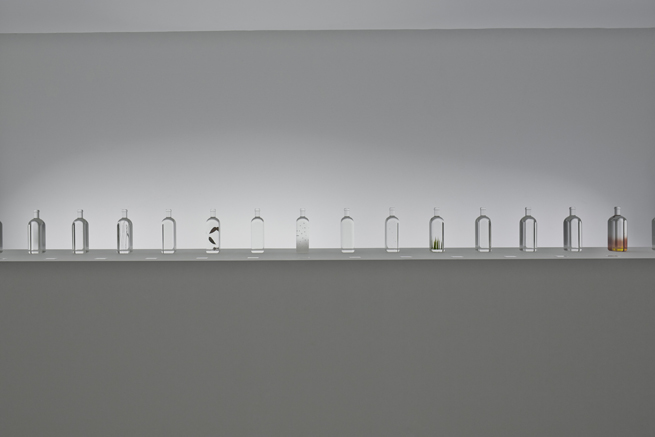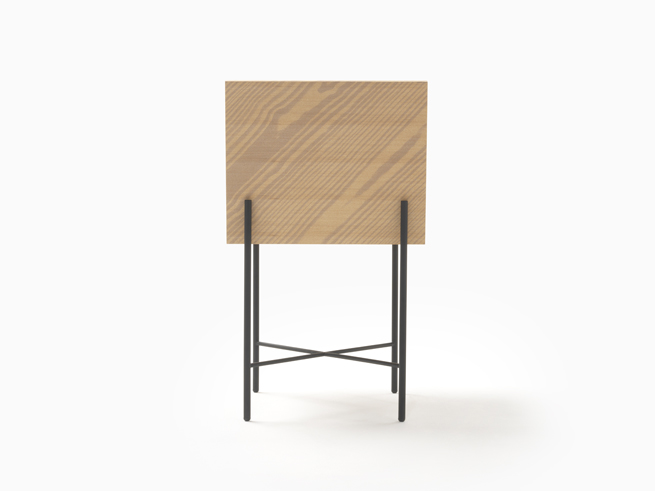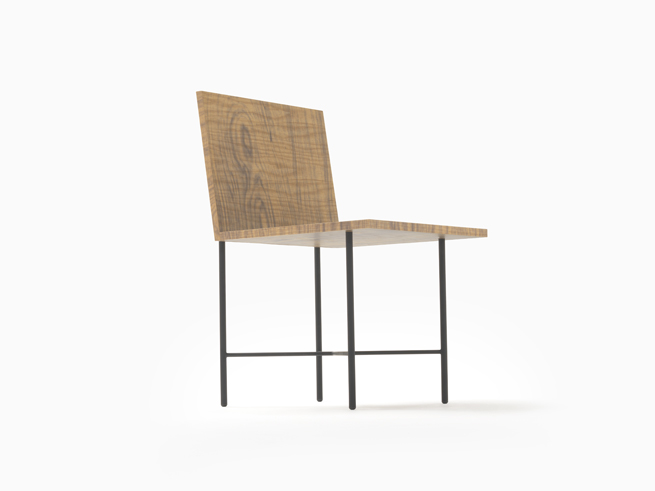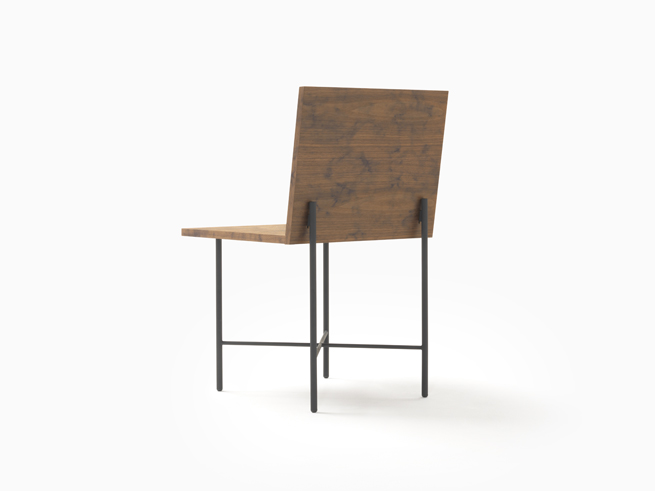 http://www.nendo.jp/en/release/2013/
http://www.maison-objet.com/en/paris/program/awards/designers-of-the-year/nendo
The image below is a fresh release from the Core line of kitchens from Japanese kitchen maker
Toyo Kitchens
.
The core concept is based on 'Living in the kitchen' and it brings togethor the concept of cooking eating and relaxing togethor in the kitchen.The design image was inspired by Laputa, the flying island in Gulliver's Travels by Jonathan Swift.
http://cdn.home-designing.com/wp-content/uploads/2009/03/japanese-kitchen-1.jpg