Take advantage of our new payment option: pay as you go only $200/week! The most affordable way to learn about kitchen design! Enquire now:
http://www.kitchendesignacademyonline.net/contact/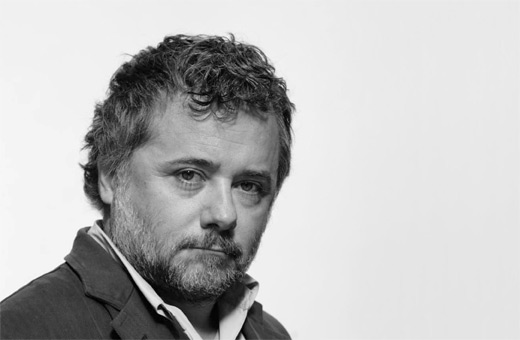 Stefano Gallizioli
Born in Bergamo in 1964. After high school he attended the artistic Polytechnic of Design in Milan, graduating in industrial design in 1986.
From 1987 to 1997 he worked at the Studio of architect Antonio Citterio.
In 1997 he opened his own studio in Milan, continuing his work on the field of design and interior architecture.
He collaborates with various companies such as Alivar, Arflex, Effeti, Fasem, Frighetto, Malofancon, Tisettanta, Toncelli, Jesse, BPA International, Fendi, Kenzo and Bentley.
In 2001 he participated in the conception of the brand Choir, for whom he designed products and coordinates and oversees the picture.
Since 2004 works with Francesca Simen which follows projects in interior design for residential and commercial.
Stefano and Francesca Simen Gallizioli in 2006 opened an office in Dublin, which combines its own studio.
In 2008 Dublin complement the interior design for the new headquarters offices of the Irish group IAWS / Cuisine de France (7500 m).
Between 2008 and 2010 we realized two villas on the private island of Mustique (Caribbean)
In 2012 they completed the project of the Interior and furniture for the Club House and the common areas of the Tatoi Athens Tennis Club (2500 sqm).
They are currently under restructuring in Milan and a residential project and hotel in Muravera in Sardinia.
NANTÌA ROSEWOOD FOR TONCELLI CUCINE
Nantìa is an evocative project inspired by the traditional kitchens of high-class worldwide residences characterized by cosmopolitan culture. The traditional cupboards, the generous stylish hood and the professional cooker are classic elements redesigned in a contemporary and professional outlook that make Nantìa a kitchen of great price. An "haute couture" product that suggests an "environment-idea" where the use of "boiseries" integrated with Nantìa's elements give rise to the "global furnishings".
http://www.archiexpo.com/prod/toncelli/contemporary-kitchen-wood-veneer-5181-754547.html
http://www.stefanogallizioli.it/design/nantia/
http://www.archiproducts.com/en/774/kitchen-furniture-kitchens.html?d=185840
THE STRATO COMPANY IN BRIEF
Strato is an Italian company among the world leaders in designing, building and marketing high quality kitchen and home furniture. Founded by Gianna Farina and Marco Gorini in 1987, Strato has always been on the cutting-edge of the kitchen world thanks to constant product and process innovation, continuous research into solutions within the sphere of technology and hand made finishings. Marco Gorini and the Strato employees share a continuous quest for taking care over details, quality, technological excellence, exclusive and innovative design. The design of the Strato collections is made by Marco Gorini in collaboration with architects and designers of Centro Stile Strato, who skillfully combine quality, attention to design and exclusive details. Strato has an exclusive network of carefully selected dealers who market the Strato collections in Europe, Asia and America. The constant dedication to innovative products and commitment to client satisfaction has taken Strato to the very heights of the tailor-made kitchen furniture world. overview design network OUR HISTORY Strato was established in 1987 by Gianna Farina and Marco Gorini as an interior design company. The love for cooking and food brought Marco Gorini to create his own custom made kitchen. In 1990, Strato introduces its first kitchen collection made with high technology and handmade finishings. In 1991 Strato opened its first show room in Milan and exposed the first Non Plus Ultra collection with a 20cm. thick Corian worktop. The collection rapidly won international fame thanks to the quality, precious materials and the unique design. During the same year Strato partecipates with a kitchen designed by Ugo La Pietra at the Design Museum La Triennale di Milano. In 1992 the first Strato factory is built in Talamona, Sondrio and the next year the second part of the factory. Since 1991 Strato has partecipated in the most important design exhibitions: Milan, Fuori Salone - Verona, Abitare il Tempo - Kortrijk, Interieur - Zürich, Neue Räume - Venice, exhibition Stanley Kubrick , Biennale di Venezia.
20.10
NPU/IGLOO collection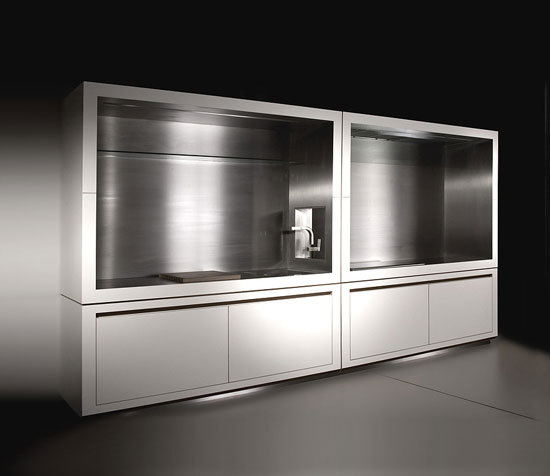 http:/www.stratocucine.com/catalogo%20STRATO%20ESTRATTO%20handmade%20in%20Italy.pdf
The everyday dinner plate becomes an interactive gadget in this entirely new dining experience called Light Dish. Originally, the dish was designed with a focus on molecular gastronomy, where food meets art and science. The Light Dish highlights food in a new, unexpected way, created a soft and diffused light. The top, made from solid Corian, hides a LED panel and battery for a seamless, smooth look whether on or off.
Read more at http://www.yankodesign.com/2015/04/30/make-your-dinner-look-like-its-from-heaven/#RwyXgrjxHGEkhgos.9