NKBA has developed a set of guidelines (40 in total) based on ergonomic studies over a large period of time. More or less, these rules are adopted by most countries and implemented in the kitchen design practice. The National Kitchen & Bath Association (NKBA) is the authority association for kitchen and bath professionals that started fifty years ago in the United States.
Here is rule #11
11.At least one functional corner storage unit should be included when there are usable corner areas.
Corners are something everybody complains about of being hard to access, dark, and low. Opinions between clients are divided: whoever had Lazy Susan in the past don't want it any more; whoever didn't have any corner solution would like to have one. The fact is, there are several corner solutions in place developed by renowned hardware companies who attempt to solve this issue. None of them are with 100 per cent success in my opinion – Lazy Susan, Mobile Corner, Magic Corner, Mondo 2K, Blum Corner drawer systems.
Excerpt from Module 8-Kitchen planning 2
Want to find out more? Enroll now:http://www.kitchendesignacademyonline.net/black-board/
Daniele Bedini
Architect and industrial designer specialized in "space design", technology transfer and lifestyle from advanced fields and extreme environments to design objects and items for daily use for a user evolved, with a focus on simplicity of form, the use of new innovative materials and technologies and the multifunctional object.
Among its most significant projects include:
Lighting system "Sivra" for iguzzini lighting, faucets "Bird of Paradise", Scarabeo and Naga for Zazzeri, ISS Habitation Module, for Italian Space Agency, "Lumen" lighting, iguzzini lighting, furniture system for COOP Italy (in progress).
Daniele Bedini also received the 3rd Prize (honorable mention) Competition BBJ - Boeing / Domus.
OFF KITCHEN for TM Italia Cucine design by Daniele Bedini (2012)
http://www.archiproducts.com/en/products/62631/kitchen-with-island-without-handles-off-kitchen-tm-italia-cucine.htmlhttp://slidedesign.it/daniele-bedini/
Accessibile Italian Design.
This is Colombini Casa's mission which not only represents all the showrooms abroad of the Colombini Casa group, but a real and outstanding concept of interior, where Made in Italy design and quality are protagonists.
Colombini Casa is the result of the idea to satisfy and give the end-consumer the chance of living an innovative experience of home interiors, following an Italian lifestyle, which range from the creative and colored kids bedrooms to the elegant and contemporary design of the living rooms, from the functional kitchens up to the comfortable and cosy double bedrooms and the refined accessories.
With this strategic choice Colombini Casa literally becomes the "supplier" for the entire home, inspiring the customer's selection of products that will be part of his everyday life with personalized solutions and the best price-quality ratio.
Colombini Casa, besides Europe, conquered the United States, North Africa and the far east markets, offering 100% design Made in Italy, careful attention to details, materials and quality.
Colombini Casa's goal, doesn't want to only open stores but wants to be an atelier of interiors with unique, customized products of design and accessible for the customers.
Collections:
Lungomare
Paragon Glam
Wood
Opera 04
Armonia 01
Provenza kitchen
http://en.colombinicasa.com/
In light of everything being portable, it's only fair that cooking stoves go that way too. The Clasp Range is a portable stove that is lightweight, easy to charge and totally ready for the go. Think camping, picnics and BBQ Parties and more, designed to fit both indoors and outdoors, I love the handgrip and collapsible elements to the design.
Designers: Kinam Hwang, Mina Kim, Jisoo Koh & Suim Chois
Read more at http://www.yankodesign.com/2015/02/27/clasp-and-cook/#ssAfZqlJpUPbSygH.99
Melbourne Modern
With its nod to mid-century architecture and a dash of industrial style, this modern family home is a glass-fronted beauty
HOUSE Melbourne Modern
LOCATION Balwyn North, Vic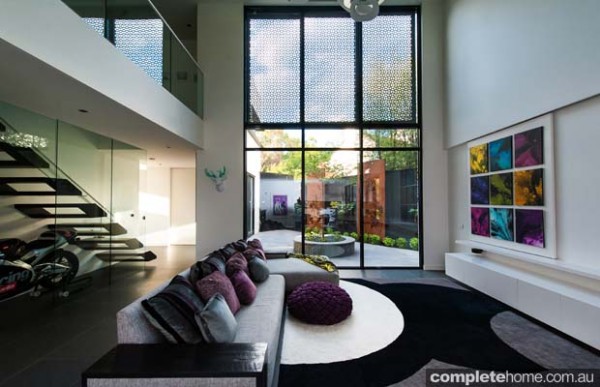 Back in 2004, Grand Designs UK featured a house called the Sugar Cube — a modernist structure with lots of glass and a stunning double-storey void area. The owners of this modern Melbourne home adored the UK project so, with the help of Canny Architecture, they drew on the Sugar Cube for inspiration for their own dream home.
Homeowners Kara and Lloyd have two young children and a pet cat and wanted a stylish house that was open plan and child-friendly without compromising on design. "We wanted the house to reflect us and the way we live," says the couple.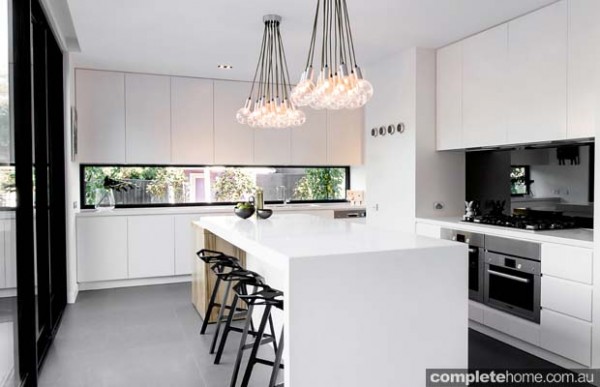 Set on a gently sloping rectangular block, the home is designed to capture the morning sunlight but protect against the hot westerly afternoon sun. The open-plan living and kitchen area is downstairs, connecting spectacularly to the outdoors with the double-storey glass wall and screen. The house has three bedrooms and three bathrooms, along with a study, large garage, gym and kids' "snug".
Lloyd's love of warehouse conversions and Kara's appreciation of mid-century architecture are alluded to throughout the house and there are plenty of industrial finishes such as steel and dark tiles. A bold monochromatic palette accentuates the modern and industrial feel further and was intentionally chosen to act as a blank canvas for changing colours and tastes in furniture and furnishings. Darker shades used in the floors and ceiling produce a moody atmosphere and accentuate the white tones in the home, creating contrast.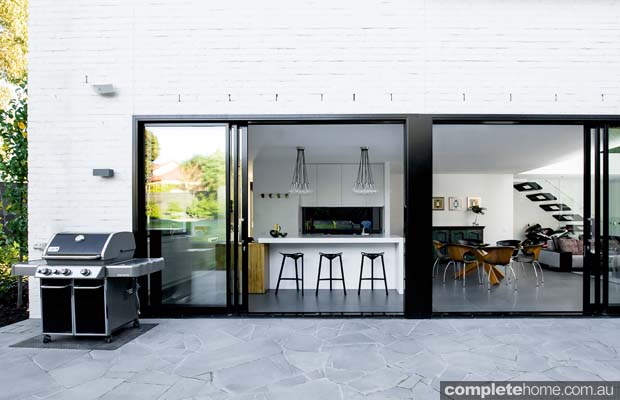 http://www.completehome.com.au/articles/grand-designs-australia-melbourne-modern/50431.html?utm_source=Melbourne+Living&utm_campaign=2201ad9b6d-MelbourneLiving_090315&utm_medium=email&utm_term=0_a3faa279ae-2201ad9b6d-368314909
With 2015 collections Wall&decò has once again ventured into unchartered territory by partnering with different artists and designers, able to produce a diverse mix of creations: from charcoal drawing to wall painting, from fabric printing to photographic images, from 3d graphics to engraving: all these artistic designs are cleverly turned into a vertical wall pattern, with truly original visual effects.
http://www.archiproducts.com/newsletter/dossier/240428