The complex challenge launched by Environment Food at the number 200 was shared by contractors, designers, managers, architects, membersologi and communication experts called to express their opinions on topics 7 , for a total of 35 thoughts to think and plan the kitchen of the future. We talk about excellence, simplicity, sustainability, taste, distribution and communication.
HERE ARE THE SEVEN THEMES
1. FUTURE OPPORTUNITIES
6. NEW QUALITY OF COMMUNICATION
In this newsletter :7 Designing the future of the kitchen: Designing for sale
Nodal center of the relationship with the customer, the traditional point of sales is due to a major overhaul of its model. A path that must first start from a strong draft, capable of responding to the needs of the consumer changed profoundly by the crisis, the rise of retail, web and social networks.
Roles, perspectives and skills compared in video interviews * to: (click on the name for the link)
* The video interviews are conducted by Carla Knight with footage of Matthew Mangiagalli
Fonte: http://www.livinginterior.it/progettare-per-vendere/0,1254,58_ART_3294,00.html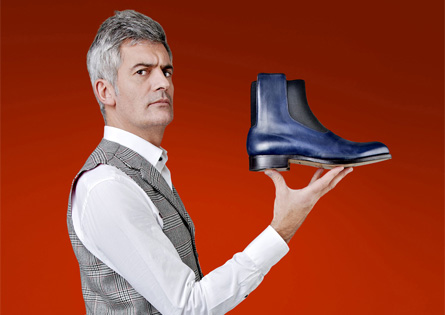 Alfredo Häberli was born in Buenos Aires, Argentina, in 1964. He moved to Switzerland in 1977 and graduated 1991 with distinction in Industrial Design at the Höhere Schule für Gestaltung in Zurich. Today, he is an internationally established designer based in Zurich and is working for some of the leading companies of the international design industry such as Alias, BD Barcelona, Camper, FSB, Georg Jensen, Iittala, Kvadrat, Luceplan, Moroso, Schiffini and Vitra. He manages to unite tradition with innovation, joy and energy in his designs and his work is strongly influenced by his early childhood in Argentina as well as his curiousness and studies in everyday life. The results are works with a strong expression and emotionality.
Pampa for Schiffini
With this project, Alfredo Häberli continues his research on the kitchen space as soul of the kitchen. Completely made in wood, "Pampa" is distinguishable for an elegant alternative to the classic handle which is replaced by a slit in the wood surface. A complex workmanship with an original plastic and tridimensional effect. A curved sign, light and soft as a smile.
http://www.alfredo-haeberli.com/about/biography
OUR HISTORY
Asolo has been defined by good reason like the pearl of the Venetian Region. During the centuries the town has experienced moments of great charm with Caterina Cornaro, queen of Cyprus, and has fascinated both women and men of art and culture, who chose it as an adoptive place of living. In the surrounding countryside, which gradually descends towards La Marca Trevigiana (Treviso) and Bassano, a net of craftsman-studios was created, and all these craftsmen took their inspiration namely from that cultural and traditional heritage which Asolo itself issued.
OUR COMPANY
Bamax, founded about 40 years ago in this area, keeps on proposing furniture which looks for its own roots, thus taking advantage of cabinet-makers and lacquering masters, heirs of an ancient and learned tradition. Inside Bamax factory, besides the wooden veneer flavour, you are surrounded by the smells of natural water-distempered colours. Our production is considered a production of high quality and craftsman mastership. Our furniture is produced in solid wood in order to guarantee the maximum stability and endurance as time goes on.
Kitchen collection
Primary geometries and shapes that evoke memories, establishing a tenuous link with the recent past: century puts in harmony apparently opposed poles, defining a style that seeks an ideal of purity.
The new version century oak, made entirely of oak, is characterized by the simplicity of the design, with surfaces without handles, punctuated by the rhythm of the visual horizontal lines.
The use of oak wood on the entire range interprets century idea of ??"naturalness" in a modern key, linked to a strong sense of materiality, which is contrasted by the brightness of colors lacquered open pore.
Among outstanding natural beauty and strict lines, century oak defines a style that blends aesthetics and search for maximum functionality, innovative components that are added to original solutions.
Working with the material, creating shapes that are brought to life by contemporary creativity, with special attention to details and surfaces. a gesture, a series of lines capable of transmitting the pleasure of touch that only the craftsmanship can create. These assumptions and suggestions of new kitchen bark BAMAX, a real creative laboratory where they meet the mastery of tradition and the best quality of this technology. In this new project volumes play with the space, making it more dynamic and functional surfaces come alive with engravings that vibrate the light and make it even more attractive, high-quality materials that characterize bark: the oak or walnut, the lacquer in the colors most alluring design details.
It's hard to imagine that there is, on this earth, a city capable of arousing emotions like venice. The facades, churches, bridges, gondolas, spaces whenever regenerate the wonder of the first time. Gaze in wonder, always takes new versions and new details in this unique and inexhaustible source of inspiration for those who know it well and for those who are about to To advance for the first time along its many alleys and canals. The uniqueness of this city-inspired artwork BAMAX in designing a product that is clearly at the top of the production of classic kitchens.
On a cool spring morning began our walk along the route that the Romans still like to do on holidays. People's Square is one of the oldest squares in Rome, has always been one of the main entrances to the heart of the city. the great Egyptian obelisk dating back more than 3,000 years ago, stands at the center of the huge oval. in front of the twin churches create one of the most famous and fascinating of this city. In this, as in many others that the "eternal city" gives us, Bamax pays homage with two major collections, Stone & Elizabeth, a typically classic, rich in details and precious finishes, a tribute to our most important asset: the history, art, uniqueness.
http://www.bamax.it/en/collezioni_cucina_classico
I know I'm not the only one who has NO CLUE how to use my microwave's gazillion features. For us, there's the Dot Matrix Microwave. — This innovative design takes the guesswork out of heating various foods by utilizing a single knob that toggles between the only the most common settings including defrost, liquids and 3 straightforward power settings. The design could have used a 2 million pixel LCD fancy shmancy screen, but nothing really emphasizes its simplicity like a beautifully basic dot matrix display!
Read more at http://www.yankodesign.com/2014/08/29/dot-matrix-microwave-for-dummies/#27lrS5ct1Fd8Fq95.99
Warm, inviting kitchen
Embracing neutral and warm tones, this kitchen by Art of Kitchens is practical, simplistic and inviting.
Designer: Ole Jensen for Art of Kitchens
Cabinet doors Polyurethane painted with Dulux Vivid White, Cleaf Oregon Pine tall cabinets
Internal hardware Blum AVENTOS lift-ups
Benchtop Calacatta and Bronze Armani marble, Smartstone Vanilla back bench
Splashback Calacatta marble
Kickboards Bronzed mirror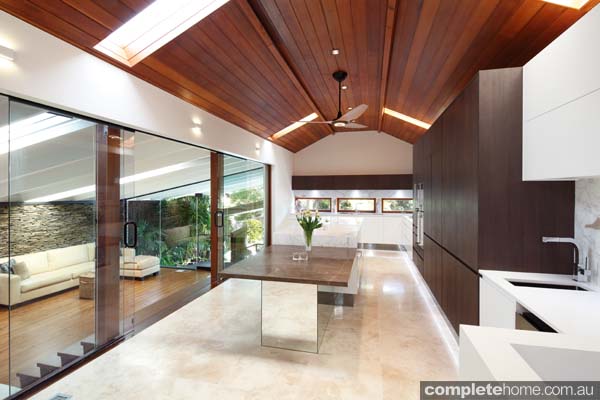 "The space available to me for this kitchen renovation was bright, large and long. The existing kitchen had timber cladding everywhere and was closed off in a U shape. The clients wanted an open and modern kitchen that would work for their busy family and as an area to entertain. But they didn't want it to look like a typical kitchen and, at first glance, you can't really tell that it is.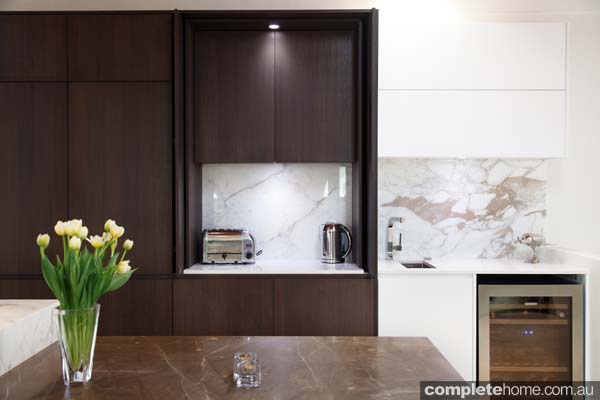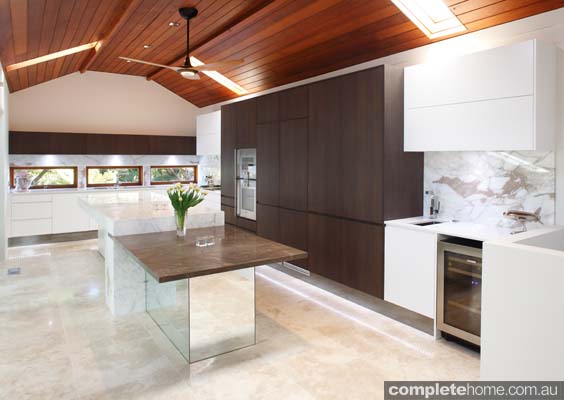 From the kitchen, you can see the garden and also the stone wall feature of the sunken lounge room. I wanted the kitchen materials to convey that same natural feel, so I used marble and a beautiful textured dark wood. The different marble colours and the marble framing either side of the dark cabinets provide contrast. I kept the cladding on the ceiling, as timber is used throughout the home and it doesn't clash with the cabinets. The large marble block islands break up the space and look fantastic. Using mirrors on the drop-down island emphasises the floor and makes the island appear to be sitting into the marble.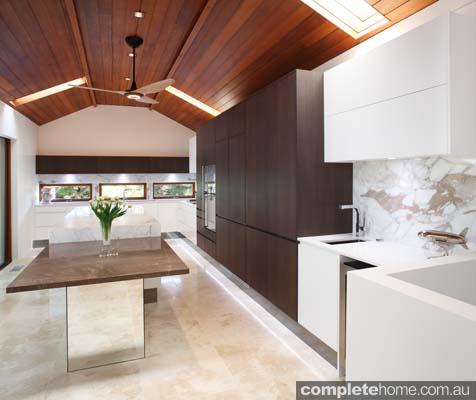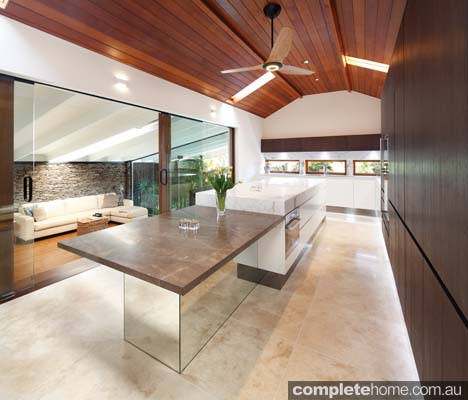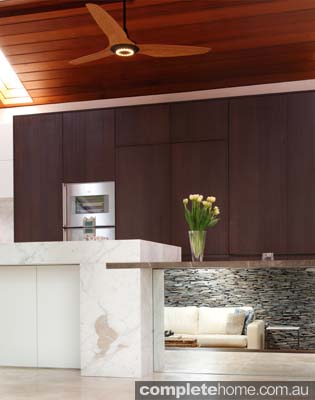 The kitchen's utility areas are concentrated, so guests will not be in the way of cooking or preparation. It's a thoroughly modern kitchen that still manages a welcoming and organic feel."
- See more at: http://www.completehome.com.au/suppliers/art-of-kitchens/warm-inviting-kitchen#sthash.a1bHGpLB.dpuf
Kitsch-O-Rama Kitchens!
We have a passion for vintage kitchen interiors and wanted to share some of our faves with you. Most of these date from the late 50?s into the mid-60?s. We prefer the more modern Laura Petri style kitchens over the early 50?s Lucy Ricardo versions. Some of these feature design ideas we'd be happy to use today!
Original post by Travis Smith of http://modernbear.net/?p=871

We dig this orange and pink color combo!
Every home needs a giant asterisk in the middle of their kitchen floor!

Where do we start? This 1961 Formica Kitchen includes insulin shots for all guests.

"Oh it was nothing! I just threw on my pearls and whipped this little snack up in no time!"
http://modernbear.net/?p=871
Architect Matthew Bremer-Fractal Pad: Tribeca
New York, NY, 2011
This project is about a highly glamorized domestic typology: the urban bachelor pad. The client, a very young and successful Wall Street commodities trader wanted to create an entirely interior landscape away from the city and the outside world. Our response was to consider the experience of this primary residence as a daily return to Plato's Cave; as the conscious exfoliation of exterior stresses through the creation of an enveloping abstract domestic landscape, where light and shadow could simply be appreciated for their beauty and mystery, and the outside would could cease to exist. The resulting completed project, Fractal Pad, is a sumptuous geometric oasis for a lover of mathematics and geometry.
http://www.aifny.com/projects/
http://inhabitat.com/the-ocean-kitchen-turns-your-kitchen-island-into-a-stunning-aquarium/