Buying a kitchen is no different than choosing your mate partner. At the beginning you researcher, get informed, listen opinions. You find examples you like, and make a list of desirable features. As a designer, you can get frustrated when client comes with a picture of sister's kitchen saying : "this is what I want" instead giving a chance to your creativity. Why do people imitate?
According to Psychology Today (n.d.), "imitation is a staple of human existence: People copy fashion styles, culinary preferences, and business strategies. This is considered perfectly normal—and in some cases essential. Utilizing the information choices of others to guide decisions makes sense, especially when the alternative is a time-and-resource-consuming trial-and-error approach, in which the risks of making the wrong decision are significant." ( http://www.psychologytoday.com/blog/the-mating-game/201409/why-we-want-who-we-want)
Mick De Giulio
Designer / Wilmette / United States
Widely recognized for growing and bringing distinction to kitchen interiors, Mick De Giulio has been designing innovative kitchens for nearly 40 years. Recognition of his undying creative energy has come in the form of premiere assignments and relationships...
"I believe a great kitchen has a magic to it that transforms the physical room into a feeling. People are drawn to that kitchen, and they may not know why. The kitchen sings.
It is my job to write the music. I may call myself a kitchen designer, but what I really do is orchestrate and conduct the dreaming process.
I listen to my clients, absorb, and then jump aboard their excitement, sometimes leading, sometimes following, but always steering that energy into both tangible and intangible – a kitchen that feeds the soul."
– Mick De Giulio,
Principal,
de Giulio kitchen design
SieMatic | BeauxArts Collection
BEAUXARTS.02 - S2
http://www.archiproducts.com/en/products/80393/beauxarts-fitted-kitchen-beauxarts-02-s2-siematic.html
http://www.degiuliokitchens.com/?section=Kitchens&page=Seeing-Blue
Cucine
For over forty years, enthusiasm, dedication and determination have been the driving forces behind Cesar's business activity. The company was founded in 1969 in Pramaggiore, near Venice, and has gradually grown and evolved into the current, internationally-renowned concern. The secret behind this success is Cesar's passion for quality, design and research. In other words, for customer satisfaction.
The design
We produce furniture with a refined, contemporary style, capable of nurturing the pleasure of togetherness and the warmth of domestic life. We constantly transform our passion into projects that transmit emotions and express utmost functionality and that offer minimalist shapes together with great customisation potential in terms of volumes, colours, ideas and even functions. All this stems from a consolidated process consisting in attention to market trends, creativity and technology.
Kalea
A kitchen that offers creative and refined furniture while redefining measurements and dimensions. The doors are just 1.4 cm thick; the heights and widths are variable and can be composed as if they were notes on a staff; versatile open units; contrasting and harmonious finishes: these are the rules of a model that unites the kitchen and the living room area in brand new, original architectures.
Kora
A functional and lively model. Doors and open units available in different sizes and finishes revolutionise the usual repetitive sequence of identical modules. It is put together like a puzzle and meets modern living requirements in a self-assured and lively way. Kora upholds a carefree lifestyle that doesn't detract from an eyecatching and distinctive look.
Yara
Yara transmits a feeling of great solidity thanks to its impressive volumes, minimalist lines and very thick, 2.5 cm doors. This is a kitchen for those who love the synthesis of contemporary design set off by precious finishes. A project that aims straight at the heart and becomes the emotional hub of the home.
Elite
The kitchen is the room in the home where harmony reigns, where tradition is exalted and tales of old are told. Elite represents the essence of this room: its reassuring atmosphere, emphasised by its elegant forms, stimulates strong emotions and acknowledges it as a place where people meet and enjoy the pleasures of the table.
http://cesar.it/en/cucine/elite
Electrolux Design Lab 2014 35 top Semi-finalists revealed
"This year's Electrolux Design Lab semi-finalists have created visionary concepts that are prime examples of what you might see in the home of the future. They focus on connectivity, biomimicry, robotics, wearable tech, recycling and reusing materials, all promoting healthy, sustainable lifestyles at home—virtually in some cases. Overall, the concepts make our every day busy lives more efficient and our choices more sustainable for a greener planet."
Head of Group Design at Electrolux and head of jury Lars Erikson comments on the submissions.
Our selection:
Air Purification concepts:
Designer:
Alessya Ivanova
Master Of Industrial Design, Bulgaria
Technical University Of Sofia, Bulgaria
"Hello! I'm An Artist, Passionate About Product Design. My Dream Is To Create Concepts That Will Make Our Lives More Pleasing And Comfortable. I Very Much Love To Dance And Sing - It Completes My Well Being."
What is the concept LIO?
LIO is a natural and symbiotic experience which cleans air by using purifying living microorganisms in it's filter. The living microorganisms consume carbon molecules and thus purify the air in home environments. The concept provides fresh clean air into the interior space, as well as eliminates unpleasant odors and gives information about the air we breathe in it's stylish glass surface. The living air wall allows the consumer to intuitively control the inside air conditions in different rooms according to different needs.
Culinary Enjoyment concepts:
Designer:
Daan Hekking
Industrial Product Design, Netherlands
University Of Applied Sciences Windesheim, Netherlands
"During An Exchange Minor In New Zealand I Wanted To Be A Participant Of The Electrolux Design Competition. Due My Enthousiasm, Visualisation Skills And Broad Knowledge I'm Able To Bring A Project To A Success!"
What is the concept Surphase?
Surphase is a multi-purpose cooking appliance that can be used to heat and cook or even to cool food. Thanks to it's flexible form, the cooking process can be done either on a flat surface like on a hob, or bent to cover a pot and be used as an oven, or even grill your steak by wrapping the surface around the steak. The broad usage of Surface will encourage people to prepare their own food either at home or by bringing the appliance along to a trip.
Fabric Care concepts:
Designer:
Selin Kosagan
Kadir Has University BA / Coventry University MSc Industrial Product Design, Turkey
Coventry University, United Kingdom
"I Am A Product Designer Who Has Interests In Digital Art And Photography And Loves To Discover New Cultures. In Terms Of Design Understanding, Believe In Power Of Pure, Detailed Design. I Am A MSc Candidate At Coventry University"
What is the concept Fabric Assistances?
Fabric Assistances lets you refresh and iron your clothes in a matter of minutes. It steams clothes with water and deodorising cleaning fluid and automatically goes across the entire surface of the garment until it's clean or until it's manually stopped. By scanning the fabric care label on each garment, Fabric Assistances makes sure to always give it the right treatment.
http://electroluxdesignlab.com/2014/submission/fabric-assistances
A fun and fresh kitchen
With pops of bright colour and retro influences, this trendy kitchen by Mint Kitchen Group is anything but ordinary.
This kitchen can be found in a 1970s townhouse in Melbourne's inner suburbs, with two storeys and a flat tin roof. The house itself was non-descript and lacking in character, so the owners wanted to bring some colour and warmth into the space.
"The walls of the diminutive space of the kitchen were Hebel brick with exposed pipes and highlight windows running along the length of the kitchen," says designer Albert Zarb from Mint Kitchens. "The previous owners of the property had left the space unused and empty as they failed to find an appropriate design solution for the confined area."
"The client wanted something special, something different, something trendy. He required a functional, usable space that worked well within the limitations of the space for a young family," Albert explains.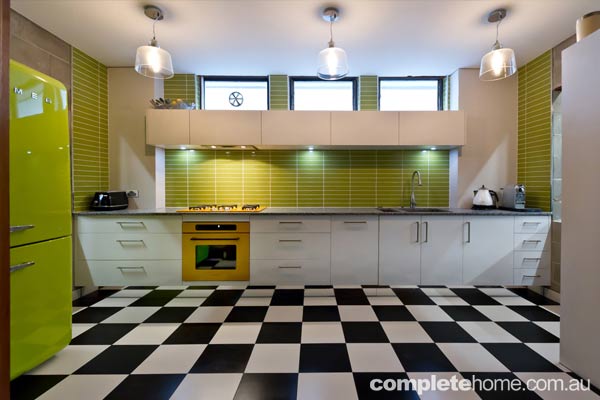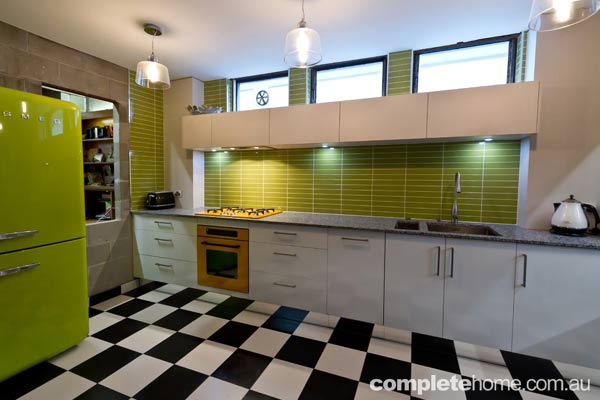 "False walls, laminated in a highlight colour, were used to disguise pipes running between floors. The overhead cabinetry with lift-up doors was reduced in height to compensate for the highlight windows above, thus allowing the windows to let in an abundance of light."
Everything else about this space is bright, funky and unique. From the kiwi-coloured glass splashback tiles to the lime tones of the fridge and the yellow oven and cooktop, this is a kitchen that really stands out. The über-cool chequered floor completes the retro look.
Looks aside, this kitchen is also highly functional for everyday use. It's spacious and has plenty of storage and all the latest internal hardware and appliances to make the space as practical as possible.
In a time when so many kitchens seem to have been cut from the same mould, this innovative and fresh space really stands out from the crowd.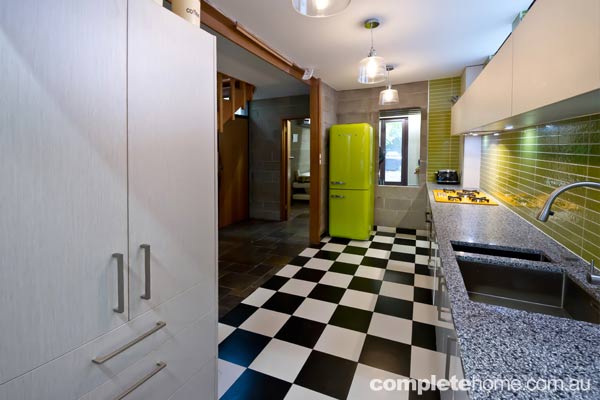 http://www.completehome.com.au/suppliers/mint-kitchen-group/a-fun-and-fresh-kitchen
The Oblong Cabinet, by Boca Do Lobo launched on the occasion of the MAISON&OBJET trade show just ended. News piece from our Limited Edition Collection
The Oblong Bar Cabinet is a fusion of modernistic and classical elements into a highly detailed and exquisite limited edition furniture piece. The modern cabinet was specifically designed to act as a statement piece in contemporary living rooms and raise the bar on luxury decoration. Handcrafted by our finest craftsmen, the luxury cabinet was born from the use of production methods developed to deliver the highest quality. Inspired by the old photos frames, will bring to your house classical and modern touch.
http://www.archiproducts.com/en/products/153898/limited-edition-lacquered-bar-cabinet-oblong-bar-cabinet-boca-do-lobo.html
HENRYTIMI
http://www.archiproducts.com/en/products/68483/kitchen-cabinet-with-single-sink-cs-501-henrytimi.html
http://www.decosee.com/design/country-home-plans-big-kitchens.html