You hear very often from clients: I love my kitchen, I love that design! That is a grateful appreciation from our clients. What actually hides behind a kitchen to love? Are kitchen design principles different than other design fields? No, they are not. Here are 10 principle of a good design, any design:
1. Good design is innovative.
2. Good design makes a product useful.
3. Good design is aesthetic.
4. Good design makes a product understandable.
5. Good design is unobtrusive.
6. Good design is honest.
7. Good design is long-lasting.
8. Good design is thorough down to the last detail.
9. Good design is environmentally friendly.
10. Good design is as little design as possible.
Want to know more about kitchen design ? Enroll now:
http://www.kitchendesignacademyonline.net/contact/
Francesco Martini Coveri
Industrial designer-Milano / Italy
Two metres of pure Tuscan for an extremely special vision of fashion. Francesco Martini Coveri is the new designer at the Enrico Coveri house of fashion. With his debut on the runway at Milan Moda Donna, Spring-Summer 2002, the journey which has taken Silvana Coveri's son to the artistic helm of the famous house of fashion is completed. Class of 1974, Francesco Martini spent much of his adolescence in the studio and workshop of his home in Florence, showing a marked sensitivity and considerable creative talents. Raised at the school of his uncle Enrico, he makes his debut in October 1996, at the tender age of 22, with the group's second line. His You Young Coveri is the expression of the sparkling, playful spirit with which Francesco joins the world of fashion. From Alessia Mertz in a Poppea style bath to items customized with e-mail, right through to the latest candy girl via his cow-couture, his runways are always a breath of fresh air and a surprise which leads the way. Francesco Martini Coveri is an eclectic young man with a variety of interests: music (he personally creates the soundtrack for his shows), basketball (a member of the Artists Italian National Basketball Team), model cars (taking 3rd place in the Italian championship), photography (he has shot several advertising campaigns for the young range), travel (source of inspiration for the creation of his collections). His friendly personality has resulted in the formation of numerous friendships with celebrities (he's often rumoured to be amorously involved with famous people) and his friendship with one of the most promising Italian directors, Alessandro D'Alatri, led him to play himself in the film "Caso Mai". Thanks to his work he has earned an important place in the panorama of fashion Made in Italy. His debut as artistic director of Enrico Coveri Uomo e Donna, on the first of October 2001, offered further confirmation of his talent. The passion he dedicates to his work has resulted in his receiving the Premio Ago d'oro in 1998, Premio Donna Circe and Premio Arte e Immagine nel mondo in 2002. The United States have also acknowledged his creative talent, awarding him the "2004 Designer of the Year Award".
http://www.archilovers.com/francesco-martini-coveri/
You can count the beats of my heart?
We do not intend to confront on land that we do not like. Technology, technical, functional perfection, ergonomics, movements, did not love this land, because for us these are things for granted. Excellence is in our DNA, but we intend to go further. If the research and marketing seem to be obsessed with the understanding of consumer behavior as an individual rational and decisive, capable of making sensible, thoughtful, Aster think differently.
E 'for this reason that today Aster is the perfect fusion of love and respect .
E 'for this reason that each of our collection is able to excite, to tell herself, to be a part of our lives and our history, past, present and future.
There is much to discover. As written by the writer Maya Angelou, "People will forget what you said and what you did, but will never forget how you made them feel"
This is our story, this is our pursuit and love for our work, the work of a lifetime. And 'the importance of telling life stories, to share our values that moves us. E 'our pay-off, Aster kitchens, a value choice.
POP ART
STONE
Oak kitchen
WILD FLOWER
Linear kitchen without handles
ZEBRA
Lacquered kitchen without handles
Traditional Collection
Opera
http://www.archiproducts.com/en/products/85703/enrico-coveri-living-lacquered-kitchen-without-handles-zebra-aster-cucine.html
http://www.astercucine.it/opera-laccato-152.asp#
The SPIC= is a smart plant growth incubator for your home that helps in enhancing the quality of your environment by providing fresh air. The plant and herbs grown within thrive using the compost you feed it. This ensures proper waste disposal, encourages recycling and at the end of the day you have a greener, fresher home. Make your own biosphere with this smart plant incubator!
Designer: Kristóf Koczka
Read more at http://www.yankodesign.com/2014/05/09/fresh-n-spicy/#9CBYZdzxpyilOPTZ.99
Vibrant, dramatic kitchen design
Designer: Alex Norman for Brilliant SA
Cabinetry Satin two-pack Dulux Murray Valley RB24, polyurethane, 25mm reverse bevel finger pull, Laminex Calico natural-finish laundry cabinet
Panels Square/flat profile panels
Internal hardware BLUM TANDEMBOX antaro full-extension soft-close, Hettich WingLine 230 door set, Häfele LeMans corner pull-out, Blum HL AVENTOS with SERVO-DRIVE, InnoFlex waste system
Benchtop Staron Tempest Confection FC116 50mm square edge
Handles Artia Jay
Splashback Acrylic couture malachite green with 0.4mm opti glass to front, bar back with acrylic couture malachite green with opal acrylic light diffuser, Staron Tempest Confection FC116 at laundry
"The rear extension of this California bungalow was built in the late 1980s and needed a complete overhaul. The homeowners are busy professionals and spend a lot of time interstate, so this self-contained studio apartment-like extension perfectly suits their needs. Our brief was to create a large entertainer's kitchen that was the main feature of the space.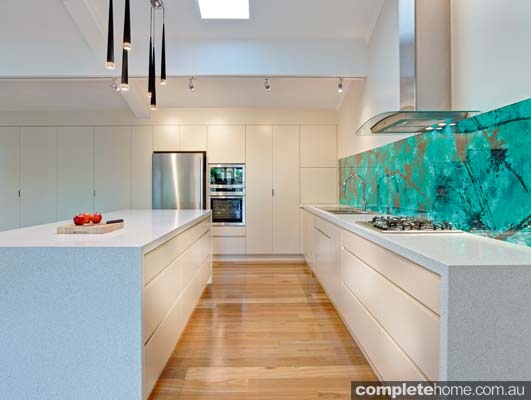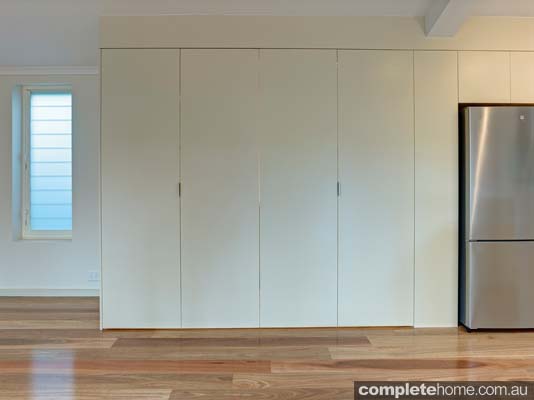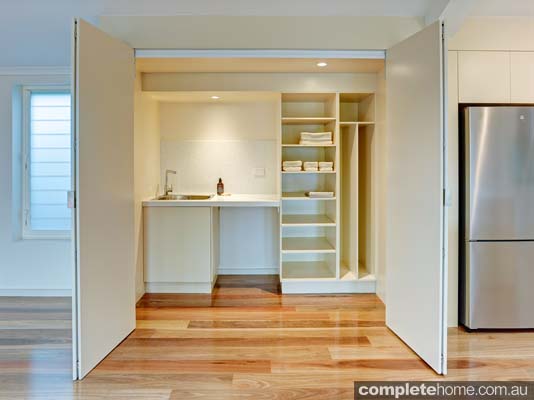 We removed internal walls and installed a new spotted gum floating timber floor and laundry behind Hettich WingLine doors. Minimal finishes combined with a streamlined design and reverse bevel finger pulls for doors and drawers are the perfect setting to show off the tropical feature splashbacks at the 4m rear bench and 2.5m island. The acrylic couture malachite green splashbacks were meticulously detailed for a seamless finish. Power is located in the appliance cabinet at the end of the rear bench and at the waterfall ends of the island for a clutter-free and functional kitchen. Spotlights and Studio Italia Yuki pendants add a final touch of drama to the pitched ceiling."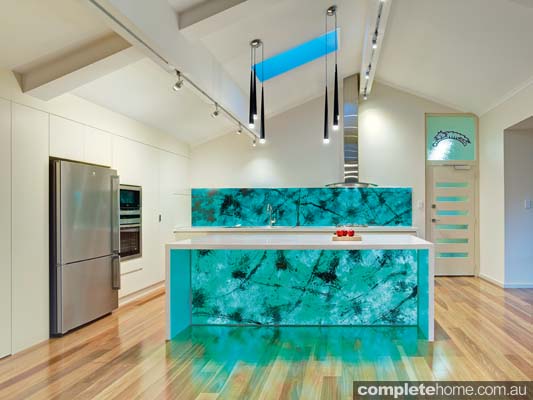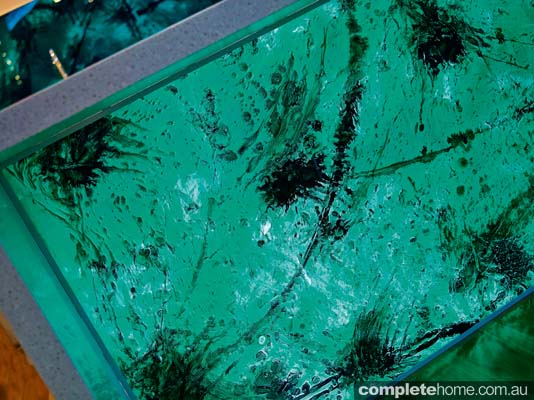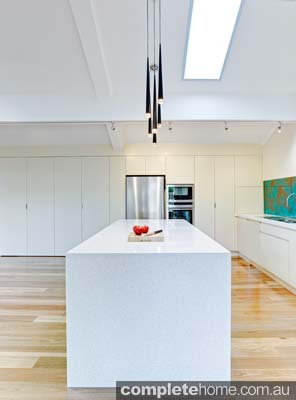 See more at: http://www.completehome.com.au/suppliers/brilliant-sa/vibrant-dramatic-kitchen-design#sthash.scaawxBc.dpuf
In June 2014 I have been invited to held a speech on design topic to a group of 180 interior designers and architect from Pune, India. The invitation was officially sent by IDAA (Interior Designers and Architects Association) from Pune, at the suggestion of two of my previous students from Christchurch, New Zealand. Neel and Prashant were international students at Design and Arts College from Christchurch where I was interior design tutor.
It was a great pleasure for me to see them again after 11 years, to meet their families and to see their outstanding professional achievements in their businesses. Today, a case study of a high standard residential interior by Neel Gujar and his team:
http://www.momtoob.com/amazing-glass-tops-for-cool-and-unusual-kitchen-designs-from-thinkglass/glass-tops-for-cool-and-unusual-kitchen-designs-from-thinkglass-with-white-blue-kitchen-wash-basin-chandelier-oven-stove-refrigerator-countertops-bar-stool/