The complex challenge launched by Environment Food at the number 200 was shared by contractors, designers, managers, architects, membersologi and communication experts called to express their opinions on topics 7 , for a total of 35 thoughts to think and plan the kitchen of the future. We talk about excellence, simplicity, sustainability, taste, distribution and communication.
HERE ARE THE SEVEN THEMES
1. FUTURE OPPORTUNITIES
6. NEW QUALITY OF COMMUNICATION
In this newsletter: 5. Taste Taste+
Designing the future of cuisine: Taste taste +
It thins the line between domestic dimension and size professional kitchen environment
Growing the people of "
foodies
", in Italy and in the world, and thins the line between size
, domestic
and
professional
.
Creates new alliances between
chef
starred and manufacturers of
appliances
and kitchen furniture.
And the Italian taste, in all its meanings, it becomes one of the most authentic and popular expressions of our country.
Massimo Casale,
director of marketing Indesit Company Market Italy.
Chicco Cerea
,
internationally renowned chef and soul of cooking school Bongusto
Brand
Scholtes
,
Indesit Company
has given a high ranking-oriented blend of professional features and aesthetic excellence.
One of the latest product lines is
S3
, among which is a
Multiple
, new tool for cooking that did not fail to strike the attention of leading chefs.
Here are the thoughts that we have collected from
Massimo Casale,
Director of Marketing Indesit Company Market Italy.

This is his point of view. 'professionalism, excellence and timeless design are the values ??that underpin Scholtes. Precisely professionalism, and therefore the method that leads to the preparation of the dishes, and excellence, both as a value and as a target are the typical characteristics of the professional world that Scholtes has maintained and enhanced through design pure and straightforward, allowing a qualified product as that required by the professional world, to enter the houses of those who need to have appliances that ensure high performance not to mention the aesthetics. consumer is interested in enhancing your kitchen with products designed and created for his own home, high-performance and particularly charismatic. The value of a kitchen, in fact, is not just an economic term but also consists of opportunities and functions that household appliances Scholt?s tend to meet. Our consumer can thus come into contact with a world of possibilities, expertly handled by a professional interior design, can lead to the realization of a functional kitchen, aesthetically appealing and realized with solid materials such as steel and exclusive. Scholtes is synonymous with innovation and continuous propensity to develop intelligent solutions . From the choice of materials, recyclable and extremely durable, disposal of pollutants, the continuous quest for perfection leads us to look ahead to find the ideal solution to all the requirements have not yet been codified addressed to the intelligent management of resources...
See the rest of the article here:
Want to be involved in designing the future of the kitchen? Enroll now and change your life! New group starts Monday the 1st of September.
http://www.kitchendesignacademyonline.net/contact/
Prospero Rasulo
Designer / Milano / Italy
He attended the school of Fine Arts of Brera. Artist and designer, since 1980 he has been engaged in scenic, pictorial and plastic activities for decorating public and private spaces. He started his work with the Alchimia offices and with Alessandro Mendini in those years on the "redesign" and "oggetto banale" (banal object) research. In 1982 his own design vision began to emerge, alternating his designing commitments with those of promoter of cultural initiatives.
Between 1986 and 1988 he produced "sexy design", "l'immagine imprudente" (the imprudent image) and "abitare con l'arte" (living with art). In 1987 he established "oxido": design, art and architecture gallery, which also became the trademark of collections of furniture and furnishing objects. In 1994 he created "piatto fax" and "trash furniture". In 1998, "eco mimetico". As an industrial designer he works for Antonio Lupi, Arflex, B.R.F., Fabbian, Fiam, Foscarini, Glas, Mandelli, Poltronova, Wmf, Rosenthal, Zanotta.
Milano collection for Del Tongo
Composition:368-L Verde Irlanda;372-L Viola Plata;294-L Bianco Delhi; 006-P Olmo
With Milano, the domestic landscape expands, designing a young and dynamic mood with versatility. It isn't just a simple proposal for furnishing a space but a program that reinvents the design rules while respecting ergonomics. The rooms are the network. They connect to one another without interruptions, combining relationships in a continuous overlapping of functions.
A freer atmosphere affects Milano's design. Tall cabinets of different heights create a containment system that incorporates the refrigerator and freezer and fits harmoniously in the living space. Pure and parallel volumes, smooth and uniform surfaces are combined in a truly original alchemy of colour. It is a creative yet functional shape, able to meet any functional need.
http://www.archiproducts.com/en/products/151687/fitted-kitchen-milano-del-tongo-industrie-spa.html
http://www.fabbian.com/en/designers/prospero-rasulo-0#.U-_oUPmSyao
"In 1982, a dream was born Francesco Stragliotto Brummel Cucine. Right now aims to create a dynamic and functional where innovation and continually seeks unique, eclectic flavor cross were the distinctive elements that have contributed to the 'identity, strong and successful brand.
Our ability to blend the Italian cabinet-making tradition with a contemporary sensibility, with important innovative features, has allowed us to quickly achieve successes that have stood the test of time.
The cornerstone was accurate design and detailed listened and anticipated the needs of a clientele always more eager to innovation and prosperity.
A combination of aesthetics and functionality that can excite and gain the trust and appreciation of a market, nationally and internationally, in continuous evolution.
A summary of the pride of owning the values and the recognized quality of Made in Italy and the ability to earn the trust and appreciation of its customers.
The expansion over the years has positioned Brummel in the best international markets, creating prestigious and important collaborations and being appreciated more and more by a demanding public that has rewarded the careful and meticulous selection of raw materials and the excellent manual dexterity.
The wood in fact, the protagonist, is chosen in the finest woods, selected with passion and seasoned with patience, combined with marbles, granites, stones, metals or crystals of rare beauty.
Precious details, designed and manufactured exclusively.
Another major step in the expansion of production in recent years where Brummel comes out from classical patterns of production kitchens to widen the Total Living: products that come from the wisdom of those who know how to design kitchens combined with the taste of creating emotion and ambiance throughout the home.
For years, the entire production cycle takes place exclusively in Italy in the establishment Brummel, where the products are completely made in each stage of the process.
Strategic partnerships with technology companies also allow you to integrate the products with automation and operational mechanisms that provide unique performance and perfect functionality.
Attentive to ecology and sustainability, the company shows great respect for the environment and to humans.
Brummel shall, in fact, a productive system that emphasizes important elements such as quality, safety and non-toxicity of the products.
All raw materials are sourced FSC controlled and the use of wood makes the products Brummel zero formaldehyde emissions;
during the production phases are put in place devices that promote the energy saving, the recovery of waste, the reduction of polluting emissions;
the ecological finishes and coating systems, water-based ensure a healthier environment and protect the health of clients;
a system of internal incinerator burns at high temperature wood waste, with minimal smoke emissions into the atmosphere, and produces thermal energy to heat the building.
Each product Brummel is a project tailor Made in Italy, eco-friendly, high-quality, always unique, exclusive, and equal only to the wishes of those who chose him.
Today, after more than 30 years Brummel is appreciated all over the world. "
GRAND GOURMET R
The best of the traditional and current events meet in Grand Gourmet R, a classic Brummel signed.
Functional elements and exclusive enriched with glamorous details create a space dedicated to the most demanding chefs and equipped with the most advanced technological tools.
Structure in wood strips gloss black lacquer with soft edges silver, with elegant pilasters decorated and the specific technical plan of the island in absolute white quartz make this particular exclusive kitchen.
MAISON CLASSIQUE | Kitchen with island
The pleasure of reassuring mediterranean atmospheres joins the indispensable value of the classic in all its expressions: the elegant grace of turned columns, the craftsmanship of the work processes, the choice of materials made to last. The antique finishes give each kitchen the particular charm of the elapsed time.
CONTEMPORANEA
Lacquered rosewood kitchen with island
DIAMOND CHEERS HOUR
The kitchen breaks with classical schemes, shakes up the collective imagination projecting it over a new space interpretation, felt as total relaxing place rather than working.
Brummel Cucine extends and values the concept of bar furniture, highlighting its charm and elegance and involving it in a richer and glamour project, adding an ice-maker, a bottles holder and a glasses holder, a small sink and a mini hob. A perfect island for a high standard "cheers hour", a magic moment in a context at the same time luxurious and functional. A classical style perceived in a modern perspective and enriched with a sophisticated mechanical automatism, able to transform an attracting and designed island into an elegant and functional bar, only in four movements.
Diamond "Cheers Hours" has a glossy white lacquered finish structure, enhanced by soft and rounds lines. The glass top, well decorated and satin silking finishing, raises, splits and slides sideways, showing its functional and containing elements. The central part of the top moves further ahead creating a console table. DIAMOND "Cheers Hours" is an example of elegant and fine design projected to unforgettable and unique moments, in a perfect Brummel style.
http://www.brummelcucine.it/it/cucine/
http://www.archiproducts.com/en/products/123663/contemporanea-lacquered-rosewood-kitchen-with-island-contemporanea-brummel-cucine.html
Illumia is a super-slim range hood, which can be operated via touch panel control and also via Android smartphones. A tasteful combination of black glass surfaces and metal trims visualizes a high-quality standard and sleek aesthetic for the modern kitchen. The energy saving device features a brushless motor which enables high efficiency and a low noise level. Its omnidirectional LED light provides ample illumination for even large cooking spaces.
Read more at http://www.yankodesign.com/2014/05/06/flatter-than-flat-range-hood/#fbsQc4y3xZqisBGe.99
Contemporary Victorian period home

Functional family spaces fused with stately charm allow this Victorian period home to reconnect with the past in the most delightful way.
A beautiful renovation in Sydney's salubrious suburb of Mosman called for demolition, re-build and extension. Jakin Constructions and the client's architect joined forces to revamp this rundown, single-level semi with very dilapidated features; opening it up and modernising it to make it an exciting and livable home.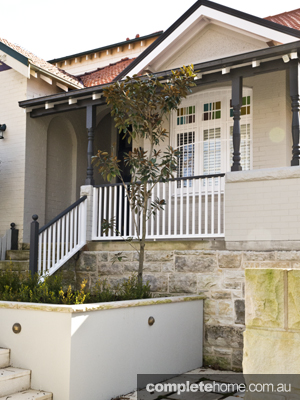 While the old houses commonly found in Sydney's inner suburbs often have a certain grace and charm about them, they also feature an often not so desirable quality — darkness. Early last century in the days when many European–influenced homes sprang up, dingy rooms, closed off by separating walls and low ceilings, helped keep the sun and heat out.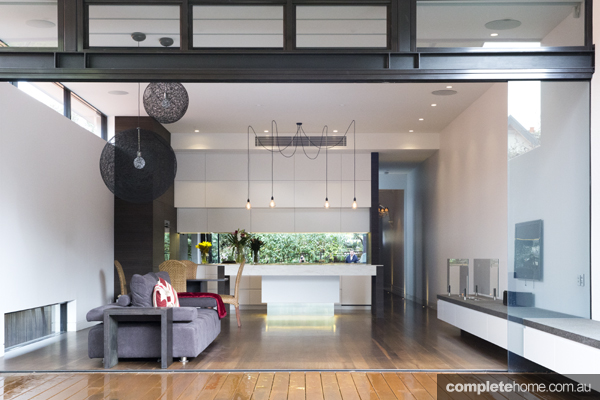 Things have come a long way since then, though, and with today's technology and building advancements, properties are able to enjoy the warmth and light without sacrificing comfort.
This was exactly the situation with this recently completed project; it was dark and dilapidated and needed some love. Jakin Constructions pulled it all together by completely demolishing the rear of the house to make way for a new extension to the rear and a new first floor addition. A new kitchen, two new bathrooms and a new laundry were installed and the front of the home also needed extensive work. The existing front aspect was refurbished but many of its original features were kept and rejuvenated in a bid to pay respect to its former glory. Lastly, new off-street car parking was created and landscaping added the finishing touches.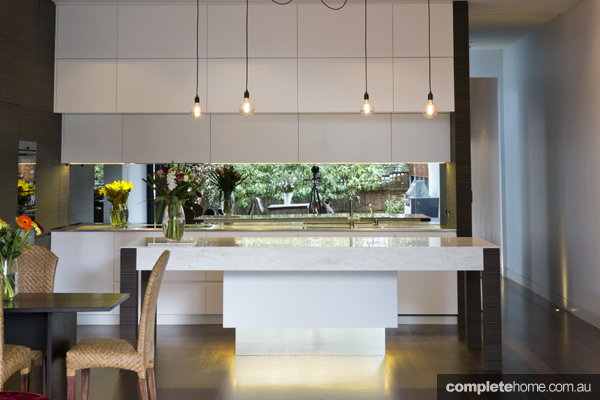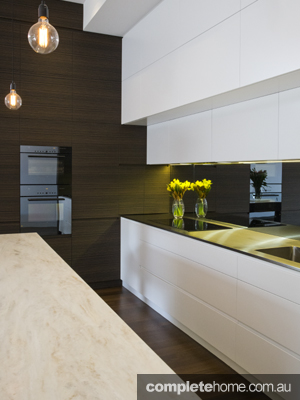 This was exactly the situation with this recently completed project; it was dark and dilapidated and needed some love. Jakin Constructions pulled it all together by completely demolishing the rear of the house to make way for a new extension to the rear and a new first floor addition. A new kitchen, two new bathrooms and a new laundry were installed and the front of the home also needed extensive work. The existing front aspect was refurbished but many of its original features were kept and rejuvenated in a bid to pay respect to its former glory. Lastly, new off-street car parking was created and landscaping added the finishing touches.
The homeowners, being a young couple with a son, wanted to create a space they could really live in and enjoy. "It was very closed in with many small rooms and one room was completely unusable," explains James Watkin of Jakin Constructions. "The brief was to create an open-plan home filled with modern elegance and the renovation was done to maximise space."
TREND FORECAST WORKSHOP
The Trend Forecast Workshop was held over two days, Monday 28 & Tuesday 29 July 2014, at
Encore
, Melbourne's premier event venue located on the stunning St Kilda foreshore. It was an action packed event with Internationally acclaimed keynote speaker, Jay Harman and the launch of the network for advanced materials - Materian.
Click on the video link below:
http://www.colourways.com.au/the-workshop/
http://www.carvedwood.co.uk/fiddle-back-sycamore-handmade-contemporary