The complex challenge launched by Environment Food at the number 200 was shared by contractors, designers, managers, architects, membersologi and communication experts called to express their opinions on topics 7 , for a total of 35 thoughts to think and plan the kitchen of the future. We talk about excellence, simplicity, sustainability, taste, distribution and communication.
HERE ARE THE SEVEN THEMES
1. FUTURE OPPORTUNITIES
6. NEW QUALITY OF COMMUNICATION
In this newsletter: 4. Excelence tailored
Designing the future of the kitchen: sartorial excellence
When the kitchen is like a tailored suit admirably cut and sewn by hand
by Raffaella Razzano

The soul is confronted with the handicraft industry needs, the atmosphere of the past with contemporary lines, the genius loci with the rest of the world . Objective: to offer quality Italian product done right. Built like a tailored suit.
's point of view of experts and insiders, starting with ...

Video interview * to
Armido Ristori
(click on the name to watch the video)
, president of Effects Kitchens* The video interview is edited by Carla Knight with footage of Matthew Mangiagalli
Source: http://www.livinginterior.it/smart-design/0,1254,58_ART_3292,00.html
Want to be involved in designing the future of the kitchen? Enroll now and change your life! New group starts Monday the 1st of September.

Lucci Orlandini Design
Roberto Lucci, Paolo Orlandini / Milano
Roberto Lucci (b. Italy, 1942)
Paolo Orlandini (b. Italy, 1941)
Roberto Lucci and Paolo Orlandini started their Milan-based partnership in 1968 and have since developed a vast and diverse array of industrial products. Orlandini studied architecture at the Politecnico di Milano, and Lucci studied at the Chicago Institute of Design. Together they have participated in various editions of the Milan Triennale; have numerous international prizes to their credit; and have works on exhibition in the design collections of New York's Museum of Modern Art, Chicago's Museum of Contemporary Art, Hamburg's Museum fur Kunst und Gewerbe, and Paris' Centre National D'Art Contemporain of the Louvre.
Skyline for Snaidero
Skyline 2.0 is the kitchen that is measured against your horizon, orienting itself to the natural logic of your gestures, in a very different way. It do
es this by means of an innovative design, which breaks free of conventional schemes without compromising
on comfort and functionality. Skyline adapts itself to your body and facilitates your gestures, with shaped worktops and work areas with glass shelves equipped with built-in lighting.
http://www.archiproducts.com/en/products/108948/skyline-fitted-kitchen-skyline-2-0-snaidero.html
http://www.allbestchairs.com/upload/files/fifty%20pdf.pdf
Ours is a story of passion, of a love for wood and for all things made well. It was back in 1976 when Carlo Scandola, having racked up years of experience working in handcrafted furniture shops in the Verona area, decided to open his own workshop, thereby laying the foundations of what would become Scandola Mobili. The home he chose for the business was Boscochiesanuova, a village sitting 1,100 m above sea level in the Lessini Hills. Here, he supplemented his contract work for other manufacturers with the production of his own new line of furniture. The first catalogue was published in 1988 and marked the moment the company became a producer in its own right. Though the premises have not moved in the thirty years since our founding, the small-scale workshop has evolved into what is now a large facility with an impressive 10,000 sq metres of floor space. What hasn't changed in all that time is our determination and enthusiasm, allowing us to deliver products today marked by the same natural essence and handcrafted skill that has been there from the very beginning.
MAESTRALE 01
-
At the heart of Scandola lies a longstanding passion for working with wood and nowhere is it more evident that in the "Maestrale" kitchen. This interior comes in spruce with a pearl white finish, teamed with ecoconcrete worktops and sink in the smoke colour option.

New World
A new philosophy, a new quality, a "new world". Elegant, restrained lines in a new classic style for a collection that offers unprecedented tactile and visual sensations with its special brushed finish, which brings out the grain of the solid spruce, showing it off to the full. A renewed, cosy and natural style to suit both country and city life.
Tabià
Tabià conjures up images of barns, stables and farmworkers' cottages, the repositories of an ancient flavour and once the hub of the mountain dwellers' domestic and working life. A collection that is strong and bold in character and evokes the warmth and vitality of these places, conveyed through the poetry and rigour of wood, brought up to date with clean, solid lines.
http://www.scandolamobili.it/prodotti.php?lang=en&coll_id=3
Chances are, your upright refrigerator has more than a few items long overdue to be thrown out. It's in part due to our increasingly hectic schedules, but also because the design isn't conducive to food organization and management. Future Connect refrigeration ditches the large fridge/freezer combo for a modular system of refrigerating units that compartmentalize meals in trays that can also be used for cooking. Each unit also informs the user when items are approaching expiration. Check the video for more!
Designer: Yujie Peng









Read more at http://www.yankodesign.com/2013/08/26/fridge-of-the-future/#4ptyioeg0dDWcWS6.99
Simple design, maximum storage space
Inspired by minimalist design elements and a need for both compact storage and convenience, this kitchen by Designer Kitchens is the epitome of practical and functional
Designer: Phil O'Brien for Designer Kitchens
Cabinet doors Two-pack 100 per cent gloss to match bench
Internal hardware Blum Tandembox and Aventos with Servo-Drive electronic opening
Benchtop Staron Quasar White 40mm
Kickboards Polished aluminium
Flooring Timber
Lighting LED strip light
Oven/cooktop V-ZUG Combair and Combi-Steam with warming drawer
Fridge Samsung SRS752QDUS
Sink Franke KBX45 and KBX34 undermount and InSinkErator
"Taking inspiration from the latest international design fairs, this kitchen trends towards a minimalist look where the kitchen invisibly blends into the background. It's a design that's particularly relevant to inner-city apartments, where there isn't a dedicated space for a kitchen and it needs to work in with the living area without taking over.
Loads of compact storage is concealed behind floor-to-ceiling wall panels, which open automatically with a light touch on the handle-less front and which are powered by the Servo-Drive electrical drive system.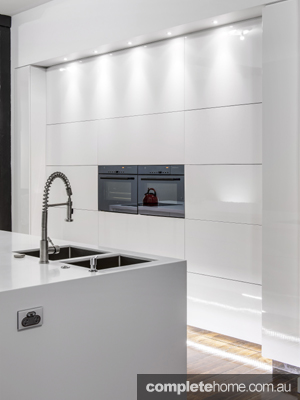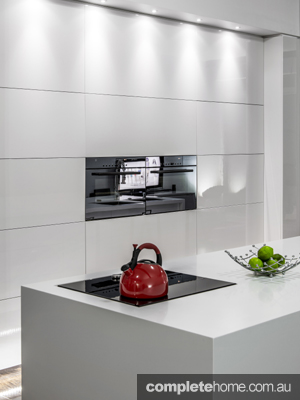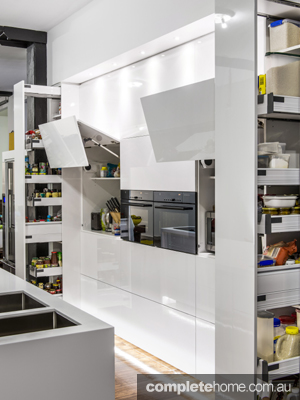 Either side of the oven, bi-fold doors lift up, as opposed to traditional left- or right-opening cupboards, providing easy access to day-to-day essentials like the microwave and kettle. The pantry is housed in full-height pull-out cabinets, leaving the island bench as the statement piece in the room and the dedicated cooking, preparation, dishwashing and bin area. What the owners love most is that it's such a practical space when in use and so easily packed up when the cooking is done."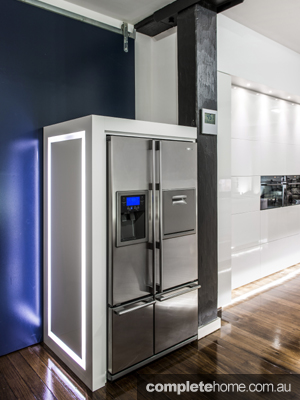 Zanussi is a leading brand for domestic kitchen and cleaning appliances. Exported from Italy since 1946, Zanussi is widely recognized for the quality of its innovative products and distinctive modern design.
The Zanussi Company began as the small workshop of Antonio Zanussi in 1916. The enterprising 26-year-old son of a blacksmith in Pordenone in Northeastern Italy began the business by making home stoves and wood-burning ovens.
For Zanussi, innovation has remained the cornerstone of success. A single glance at the bold design of Zanussi products and the advanced technology and user-friendly performance of the whole range proves as much. "Excellence in Design and Innovation" sums up the Zanussi positioning across international markets.
The Norwegian company 'Norema' is the creator of this wonderful kitchen designs. They cover every conceivable style and type of housing, and offer creative ideas for small apartments and houses where the kitchen is merged with other home premises. Other kitchens are designed to fit perfectly into a modern urban interior. Of course, there are also those suitable for large open spaces. Extremely charming is the kitchen design typical for a mountain cottage or a chalet.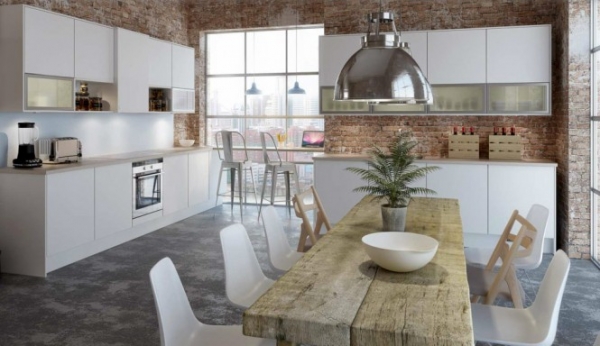 see more:http://adorable-home.com/kitchen/norwegian-kitchen-design-1292/