The complex challenge launched by Environment Food at the number 200 was shared by contractors, designers, managers, architects, membersologi and communication experts called to express their opinions on topics 7 , for a total of 35 thoughts to think and plan the kitchen of the future. We talk about excellence, simplicity, sustainability, taste, distribution and communication.
HERE ARE THE SEVEN THEMES
1. FUTURE OPPORTUNITIES
2. ECO DESIGN
4. EXCELLENCE TAILORED
5. TASTE TASTE +
6. NEW QUALITY OF COMMUNICATION
7. DESIGNING FOR SALE
In this newsletter: 3. Smart design

Designing the future of the kitchen: Smart design
Simplify with intelligence: a topical issue, all the more pressing in the complex world of the kitchen
The point of view of Dionysius Archiutti on the theme of "smart design." Archiutti is director of strategic marketing at Veneta Cucine.
" Producing kitchens placing the artisanal know-how at the service of innovation in taste and make a value accessible design ": this is the mission declared by Veneta Cucine, one of the largest industries in the food sector, productive reality, mediating cutting-edge technology and traditional craftsmanship, points to the design value of output growth not only in aesthetic terms, pursuing the path of research and innovation. In this sense, you should read the long-term collaboration with Domus Academy and the concept of two new kitchen, Ecocompatta , by Paolo Rizzatto , and Liquid , by Stefano Giovannoni and Elisa Gargan , two projects to be considered "smart" in all respects. At helm of the company, Dionisio Archiutti, second generation family owner, responsible marketing strategies and president of Shape - the second brand of the Group. His leadership focuses on the value of the brand and its diffusion in global markets, on a " Made in Italy original , but fell in the lives of the various countries where we export, and on the real needs of a user more attentive and sensitive to which we propose kitchens with functional and aesthetic contents at an affordable cost , "say Dionisio Archiutti.
Read the whole article here:http://www.livinginterior.it/html_backup/0,1254,58_ART_3315,00.html
Makio Hasuike
Makio Hasuike was born on 20th January 1938 in Tokyo. Graduating from the Tokyo University of the Arts in 1962, Makio Hasuike began his professional career in Japan by working for one year with Seiko: he designed a set of clocks and timers for the Tokyo Olympic Games, held in in 1964. In 1963 he established himself in Italy, working in different fields of industrial design. In 1968 he set up his own studio in Milan, one of the first studios of Industrial Design in Italy. In 1982 he created MH Way, an experimental project aimed at conceiving and marketing some innovative products such as briefcases. This thorough design activity directly confronted him with all the aspects connected with production and distribution.
The company, still active today, is a rare example of successful "design company".In over 40 years of activity he cooperated with several Italian and international companies, in various fields, contributing to their success through design solutions that are innovative in terms of appearance and contents. Makio Hasuike & Co. works in a wide range of design: from high technology instruments and tools to work and spare time accessories, from small and large household appliances to furniture and home accessories, from brand identity and packaging to Exhibition Design. His projects obtained many prestigious prizes and acknowledgements, such as "Compasso d'oro", "Macef", "Triennale", "Smau", "Bio" (Ljubljana), "Design plus" (Frankfurt), "Design Preis" (Stuttgart), "Design Innovation" (Essen), and they continue to be displayed in permanent exhibitions like the Museum of Modern Art (MoMA) of New York.
He frequently has been invited to hold classes and lectures at numerous conferences and international conventions and he taught at the University of Industrial Design in Milan. Moreover as a result of his successes in this field, Makio Hasuike became one of the members of the founding committee of the Master in Strategic Design at the Polytechnic of Milan.
Plana for Del Tongo
Plana is a project that declines a new vision of domestic spaces and social life: the kitchen and the living become one unique environment, open space that unites people, both place of service and sociality. It represent the answer to the habitative needs that are increasingly orientated towards adjoining and open spaces, that need furnisher solution that are harmonious and coordinated: the kitchen faces the living room and vice versa.
Plana is a model destined to an evolved public. The functional innovation, the high level of design, the use of particular materials, make it a surely contemporary product and of great actuality. It's a project that wants to answer to the needs of an evolving world: the moment that habits change, time and manner of social relations, it's fundamental that the way we organise the environment we live in changes too. Plana, the centre of home life.
http://www.makiohasuike.com/
Italy
Since 1954, from Tuscany to the whole world.
Our origins
The Company, as we know it today, was created, step by step, thanks to the hard work and tenacity of a family of entrepreneurs, generating wealth and jobs. Del Tongo has now become a benchmark for thousands of families and for the qualified net of dealers Del Tongo succeeded in creating a solid relationship with, throughout many years of collaboration. We design and manufacture in Tuscany: our work, our style, our design philosophy are all expression of our land, which we have always exported all over the world.
Our mission.
Day by day, we work in order to make design, technology and ergonomics widely accessible. We want our kitchens to look good, be smart and last long, so to contribute to improve the life of their users.
Collections
Creta - Del Tongo all has a certain home in mind in which to live out our dreams, a home that is the open arena of our social life, the place in which our emotions and relationships are played out. The kitchen of this home plays a very important role and is, of course, an open space where much of this social life takes place.
Composition: 382 - P Rovere Vista; 290 - XP Nero Dakar
More soul and less design. Nature is the source of inspiration here and Creta captures its essence to create its own parameters in a contemporary kitchen. Subtle landspapes acts as essential panelling for a touch of severity. Effortless poetry where wook evokes the infinite brown hues of this land.
Composition: 006 -P Olmo; 380 -L Blu Portel
Far away from noise, immersed in a world of harmony and unspoiled nature Past and present and inside and aoutside combine. An open space full of light whici is enhanced by dominance of white. Where the eye moves through the space freely and design achieves maximum expressivity.
Valencia, protagonist of current and elegant lifestyles, is looking to a new essentiality, between minimum horizontal thickness and maximum width of surfaces. It's primary geometry for a versatile and eclectic project that is here differentiated in four different configurations. It's the definition of a kitchen environment that naturally untwines into the living, incorporating it and integrating it. A sober and refined system that hides technical and functional contents, transversally interpreting different stylistic values.
Composition: 789-P Marrone Neiva; 780-T Giallo Suarez
Constantly striving for change means enhancing your own design experience and exploring new kitchen-living area connections. It is the bases for new configurations reflecting clean lines and functionality. Neiva Brown for the columns containing and linking the two spaces.
Monos is the evolution of the kitchen environment, sign and function, scenographic representation of the transformation of our daily actions that, due to evolving situations, need spaces that are always able to conform to our needs.
A rigorous linearity in shape, elegant and essential. A formal compactness, expressed through absolute shapes. A neatness that hides a lot, and only reveals it to who is able to establish a relationship that isn't just superfcial. Monos is a project able to be at the service to whom chooses it for their home: it allows you, in fact, to increase work surface when it is needed, an to decrease or hide it when you no longer need it. It's a system thought in elements, that create "open limits" between domestic environments and, at the same time, hide functional parts; with a well being you can perceive through the disposition and creation of spaces, the effciency of the operative parts, sensorial materials.
Florentine Renaissance is the Leitmoiv of Medicea. You can notice it in the search for harmony, in the perfection of volumes, in the artistic craft works. Even in the traditional and precious materials. The result? A program where luxury in most of all sumptuousness and beauty is something aristocratic and distinctive. But Medicea is also inimitable in its being close to contemporary needs, having a cutting edge technical and functional content.
Defining an environment according to the beauty of its shapes, the quality of the material, the preciousness of the finishes: Deruta interprets the kitchen environment according to an exclusive concept. It's program rich in personality, where materials are enhanced by the uniqueness of the touch of craftsmen masters.
Composition: 939-TM Nero Tabor
Alongside the brightness of the white, Deruta appears in tabor black, a classic, refined finish embellished by the bright silver thread. The gulf composition, made dynamic by the large central island, is fitted with doors featuring metal handles.
http://www.gruppodeltongo.com/
The Future hunter-gatherer' is a device that quite literally gets you to start cooking with a virtual hunt in your kitchen. Allow me to explain; this is a device that recreates a holographic experience of sourcing ingredients, right in your kitchen. You can shop from a holographic supermarket or a fish market and get food delivered to your doorstep.
You can even use the device to play a pleasant hunting, fishing or farming game, depending on your culinary expertise and dietary needs. In a nutshell, 'The Future hunter-gatherer' takes you back to the roots of hunting, farming and gathering via a virtual experience. So while you gain knowledge about how our ancestors sourced food, you get fresh produce delivered home.
Designer: Pan Wang
Read more at http://www.yankodesign.com/2014/07/31/virtual-shopping/#FIgilhpRvlKvbfac.99
An innovative design on the oceans edge
Transforming a simple beach house into a breathtaking Balinese resort-style residence, this multi-award-winning design by Ultraspace proves that innovative use of materials can achieve truly awe-inspiring results.
The brief to designer Mark Gacesa of
Ultraspace
was to create a home that made the client feel like they are on a permanent vacation. As an entertainer's paradise, the design needed to combine showstopper looks with highly robust qualities.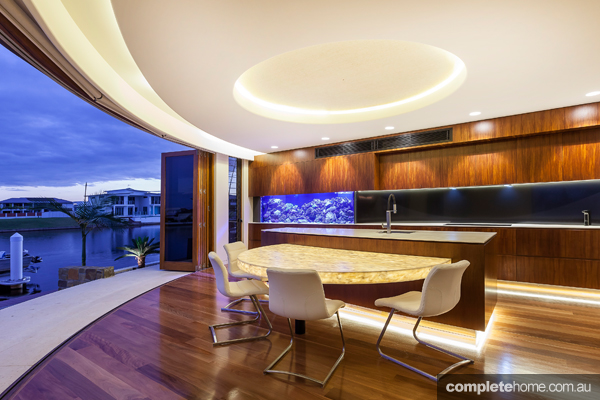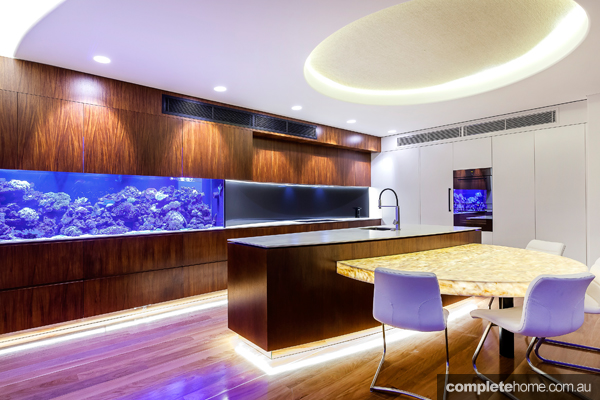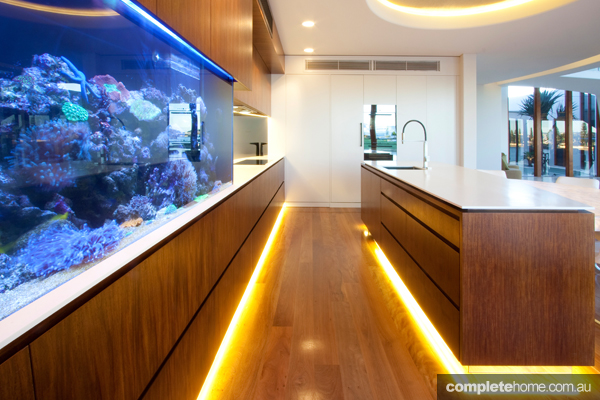 The marriage between beauty, flexibility and strength made DuPont™
Corian®
the compelling choice for surfaces throughout the project. ...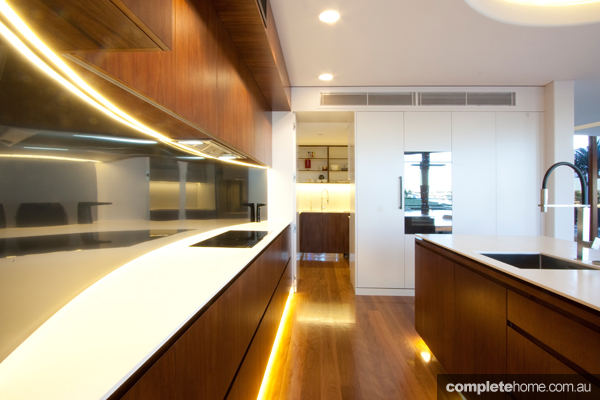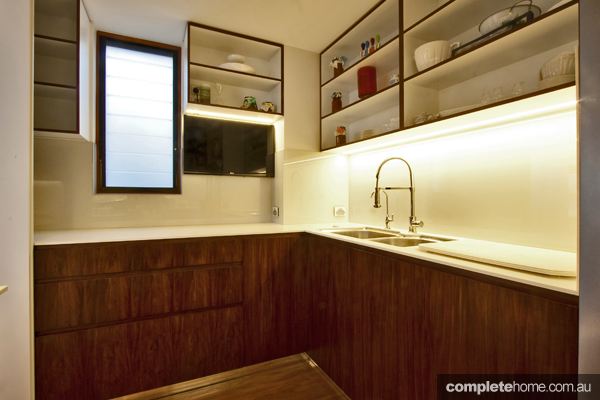 The result is a sleek and sexy residence that has won multiple awards, including the Queensland Interior Design Award and the 2013
Corian®
Design Awards. But most importantly, it is a home the owners say no holiday destination can match.
See full article at: http://www.completehome.com.au/suppliers/corian/an-innovative-design-on-the-oceans-edge#bc=Home%20Page%3ALarge%20Banner
The 11 Biggest Trends in Kitchen Design Right Now
Kitchen renovation, here we come!
By Michelle Profis
http://margas-margas.blogspot.com.au/2012/07/quick-fix-kitchen-curtain-solution.html