Have a look to this great blog full of advice for design students: http://www.davidairey.com/advice-for-design-students/
Want to become one? Next group starts 6th of April. Secure your place now: http://www.kitchendesignacademyonline.net/contact/
Enrico Bedin
My name is Enrico Bedin and I am a home stylist.
I was born 40 years ago in a small town near Venice, Italy.
Since I was a child I have loved everything that my senses deemed "aesthetically beautiful" and have dedicated my life to this passion.
I love all forms of figurative art, photography, sculpture and painting. For over 20 years, I've been interested in each aspect of interior design, both residential and business spaces (offices, shops, hotels, restaurants, etc.).
My services include:
Project consultancy according to the Classic Italian Style criteria.
Interiors concept design with personalized style and decor.
Creation and design of unique furniture such as woodwork, kitchens, tables, etc
Consultancy regarding finishings, fabrics, design objects, stones.
Execution and supply of decor products.
My love for beautiful things, my unique Italian taste, and the technical capacity as an interior designer to create custom environments is at your disposal.
The first step in creating a dream environment, is to listen to and understand your personality, tastes and needs for living in the environment itself.
We will find solutions together by drawing environments, choosing the colors, fabrics, lighting, the atmosphere and the style you want.
I can suggest products designed by myself, by selected Italian interiors companies or I can call upon skilled artisans that embrace many decor styles, from classic to modern up to contemporary in order to produce unique pieces for you.
My services also include Garden Designers.
We can design your garden and the Italian style outdoor space you want.
ROVERISSIMA
Linear oak kitchen, design by Enrico Bedin for Domus Arte
http://www.archiproducts.com/en/products/174263/linear-oak-kitchen-roverissima-domus-arte.html
Custom kitchen for Enrico Bedin studio
Custom kitchen for Enrico Bedin studio
http://www.enricobedin.com/en/custom-kitchen/
Nova kitchens, free your idea of home
The history of
kitchens
Nova begins in the early 90s by a company specialized in the production of
kitchens
modular style.
Since the early years, the company follows a constant development, knowing place with outstanding results in the growing mobile market in Italy.
Thanks to the increase in revenue, towards the end of the 90 Nova Kitchen can expand its facilities with two significant interventions to the production plant, so as to lead to a covered area of 10,000 square meters.
With the advent of the new millennium, a important investment in machinery used to start a new line of production and style of
kitchens
is oriented progressively towards'
modern
, focusing in this way development efforts on design and research materials.
The company says it also in the market of contemporary furniture, meeting the demands of the customer's taste and flexibility of the global era.
In support of these important steps of his maturation, prudent strategic choices have marked a growth path consistent with the ' commitment to never betray the original soul of the corporate identity.
Over time, this philosophy has led us to consider flexibility as a key hallmark of furniture solutions
Nova Kitchen
.
With this in mind, the new production line is accompanied by a new department devoted entirely to the customization of the product, containing a true and its workshop able to study solutions for exclusive furniture projects.
The valuable network of collaborations and synergies established with solid small craft excellence of the territory, finally contribute to the realization of compositions meticulous in detail and with a keen appeal "Made in Italy".
Founded to serve the domestic market, over the years the company has also started to expand internationally.
Markets such as England, Spain, Turkey and France now represent a significant part of the turnover, confirming the company's ability to look beyond the border.
Today the heart of Nova is the
modern kitchen
, offering the opportunity to expand their project furniture with solutions for the living area and bathroom furniture in perfect harmony.
The possibility to choose between different types of material - from the laminated wood, from lacquered glass - and the ever-present alternative of integrating different opening systems - handle, system or system throat throat classic straight - to offer a complete range unmatched.
Kitchens Laminate
Choose a kitchen Nova means to satisfy their own way of being.
The range of laminate doors offer from Novacucina is extensive and varied: they can be traced to this category wood finishes the program Infinity, finishes lacquered ash Program Sky and doors in polymeric program Rainbow.
All variants of the fronts are 22mm thick and can be combined to suit your style.
The combination can also be done between laminate doors and lacquered doors lux, or between doors in matt and shiny brushed.
Infinity 10
Kitchen environment with throat finish
white lacquer
, where they are paired bases in matt board laser, wall units and columns finishing flamed cortex.
Open elements matt lacquered white, floor snack of thickness 60 mm in finishing flamed cortex.
Infinity 6
Kitchen furniture
of this environment consists of bases with door thickness 22 mm finish tranchè white ice and columns in lacquered matt satin hemp.
The snack area of 6 cm thick is lacquered in matt satin with hemp Gambone plate to support the peninsula to size.
Kitchens resin cement
The resin cement is among the latest in research and innovation in the materials used for the construction of a kitchen environment.
Novacucina using this advanced equipment so widespread in their furnishing projects: the resin cement can choose it for the realization of the mobile kitchen, the bathroom and the living, within programs and Kyton Way, and for the implementation of work plans and snacks in sp.
20, 40 and 60 mm.
The maximum aesthetic uniformity within the environment is guaranteed by the possibility of making resin cement also profiles throat and clogs.
The design of this kitchen is made ??from the front, top, skirts and gorges of the island in the only finish in
dark gray resin cement
, the work plan is customized stainless steel thickness of 12 cm.
with bath sink and hob built in conjunction with the snack counter in veneered
oak old
.
The group of mobile column is in
white resin cement
.
Wood veneer kitchens
The kitchens in wood veneer material are characterized by the effect of natural wood.
The proposed Nova for this type of cuisine is very wide, it can range from the rift oak finish in horizontal grain of Flexa, at the Royal brushed yellow pine, oak flamed up to a vertical vein Kyton program.
With this program, you can design your kitchen with oak or oak nodato termocotto, so as to achieve an even more exclusive.
All woods can be chosen to be in the same color, so you can give even more prominence to the characteristics of wood, both in lacquered finish, for most smart design.
Environment
furniture kitchen
with a composition consisting of raised bases height 79 cm combined with socket height 8 cm.
The stove and sink are integrated into the top stainless steel with thickness of 6 cm and a height of 60 cm suspended bases.
The handle is the M1136.
Kitchens wooden frame
Kitchens with frame in solid wood ash are achievements that require absolutely the most experienced and manual machining, being the result of constructive processes of craft.
Novacucina has a long tradition in this sense, today summarized in two models with a unique character: the kitchen Venice, for the composition of kitchens classic taste, and cooking Quadra, a solution that modern interpretation of the wooden framed door thanks to 'union at 45 ° of the uprights, environments for a more contemporary style.
The Quadra program is designed for kitchens drawing from memory of the past, so that everyone can recognize elements known, recognizable, familiar.
The kitchen presented here is a composition in finishing dyed Smoking with worktop 2 cm thick laminate Versilia White.
The snack area is 6 cm thick.
glossy polished finish on request.
http://www.novacucina.it/arredocucine/skills/laminato/
NUKE is an innovative cooking system that gives users complete control of the process all from the convenience of their smartphone. Just pick a recipe from an app-accessible database and follow step-by-step directions while your cookware automatically adjusts temperature and time settings based on your selection… OR whip up your own specialty and keep an eye on it with your phone while you're multitasking! Hit the jump to see how it works.
Designer: Talia Brigneti
Read more at http://www.yankodesign.com/2014/04/09/mobile-chef-of-the-future/#fltf0ZoVCcT8eHwS.99
Luxe farmhouse kitchen design
AKL Designer Kitchens
take the splashback all the way up and across the wall behind the rangehood canopy to make the cooktop area an impressive focal point of the space.
Designers: Adrian Lee and Daniella Pescheck for AKL Designer Kitchens
SHOP THE LOOK
Cabinet doors and panels Dulux Heifer satin, Dulux Black satin on island
Mouldings Custom made by AKL
Internal hardware Blum Antaro
Benchtop and splashback Cosmic Black granite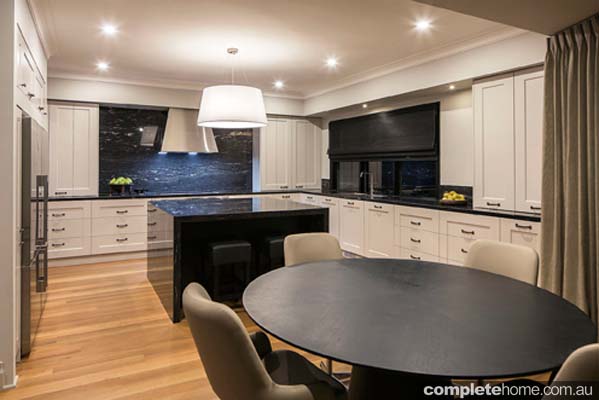 "This kitchen renovation is in a large farmhouse and the brief was for a modern, yet timeless and high-end version of your traditional farmhouse kitchen. This has been achieved by using a modern Shaker-style cabinet with simple square lines while the handles provide a more classic touch. The cooktop area is typically the focal point of a farmhouse kitchen and that has been achieved here by placing the large stainless-steel rangehood canopy against the impressive backdrop of the Cosmic Black granite that fills the whole splashback area up to the bulkhead. It would not have looked anywhere near as impressive if the splashback was only standard height. A large island bench was important to the client and the thick granite benchtop and waterfall really makes it stand out. There is great symmetry as the size of the island matches the width of cooktop splashback along with matching cabinets on each side. These bi-fold doors house the pantry on one side and small appliances on the other while the microwave has been cleverly hidden on the back of the island bench."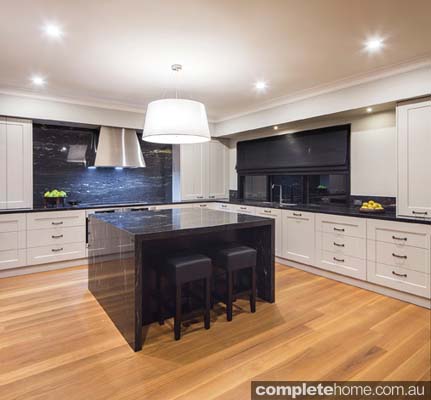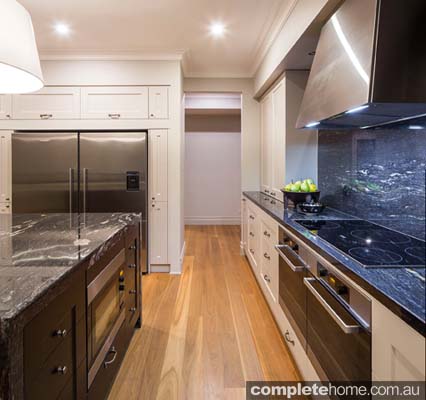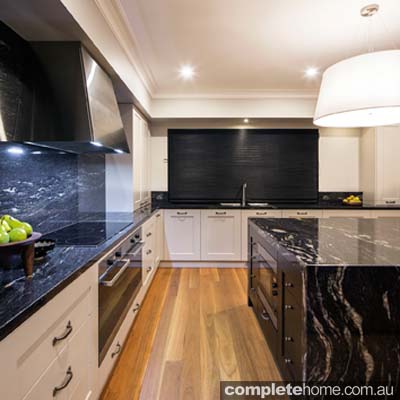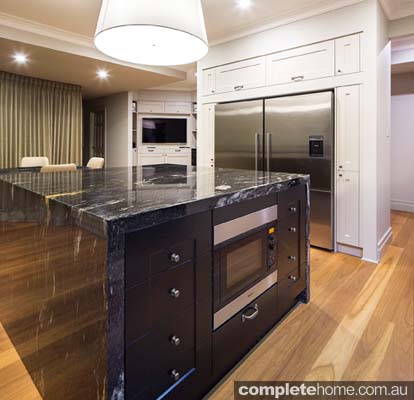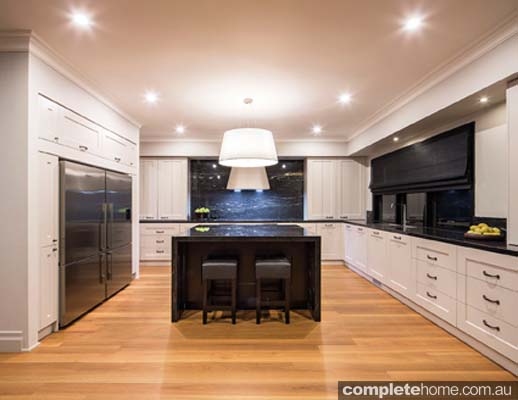 - See more at: http://www.completehome.com.au/project/luxe-farmhouse-kitchen-design/45637.html#sthash.0GNggTkj.dpuf
BD Barcelona Design | Shanty Collection
SHANTY | Sideboard
Sideboard with drawers, design by Doshi Levien (2014)
http://www.archiproducts.com/en/products/131999/shanty-sideboard-with-drawers-shanty-sideboard-bd-barcelona-design.html
http://gafunkyfarmhouse.blogspot.com.au/2011_10_01_archive.html