Want to know where the kitchen design heads this year? Find below some fresh trends:
By Lauren McPhillips
1. Brass
It's all about that brass for kitchens in 2015, featured heavily in everything from taps, sinks, range hoods, hardware,
light fixtures
and even bar stools. "I love the warmth and sparkle that brass adds to a kitchen – it looks wonderful with whites and greys and can be sophisticated, modern or preppy," says Colleen. "To get that beautiful patina, go for an unpolished brass with a brushed look that will continue to wear over time."
2 Walk in Pantries
Plenty of storage space has always been a must in kitchens, and 2015 will take it to the next level with large-scale walk-in pantries and wine closets. "The great thing about these walk-ins is that the room feels like part of the kitchen, but is a separate space which adds an exciting element for entertaining," says Colleen. "In a more classic style kitchen, they can be hidden behind a cabinet door, but in modern spaces, steel-framed glass doors make these rooms even more amazing!"
3. Black and white
Though stainless steel will always be a classic favourite, kitchens are seeing a resurgence of black and white appliances in everything from refrigerators to ovens. "Both look incredible and pair well with brass accents," says Colleen. Instead of going for the old school block of a white refrigerator, opt for the sleeker, more streamlined appliances that blend in seamlessly to your kitchen's architecture.
4.Patterned Splash back tiles
From Moroccan mosaic to brushed herringbone tile, the patterned look is big for backsplashes in 2015. "These
patterned backsplashes
add texture and interest to the kitchen –they're a refreshing change from the marble slabs and subway tiles we've been seeing for years," says Colleen. Create some contrast in an otherwise all-white kitchen with boldly coloured tiles and add some texture with matte or honed finishes.
5. Smart Appliances
As technology continues to evolve at a rapid pace, so does the way we work in the kitchen. Smart appliances will be everywhere this year, and Colleen is already a certified fan of the Miele smart oven (which can keep more than 30 of your favourite recipes in its memory) and the built-in iPad for ordering groceries and playing music through her Sonos whilst cooking. What's at the top of Colleen's wish list for 2015? "The
Top Brewer by Scanomat
is so sexy," says Colleen. "It's a tap that brews coffee, froths milk, or gives you chilled drinking water, cold milk, or hot water for tea – plus it can be controlled with your iPhone!"
http://www.styleathome.com/kitchen-and-bath/kitchen/2015-kitchen-design-trends/a/58936#ss-582a8cc4-5ba6-40b0-a089-7f939ad0bfc4-slide-6
Ulrich P. Weinkath
Interior designer / Hamburg- Norderstedt / Germany
For over thirty years I've been self-employed in the field of furniture development/interior design and the furniture located therein (construction and manufacturing). With a lot of heart, lust and enthusiasm I practise my profession. For me it harbours many challenges and when it's going to be ambitious or tricky, then it is just right. My main field of activity lies in the development or construction in relation to the respective requirements of the design. I'm developing furniture and furnishings for everyone, for my peers from interior design too. Due to a well-founded network of specialists in industry and crafts I'm able to produce excellent quality to absolutely acceptable prices. This is only a brief survey of my activities.
Plan W I Werkstatt für Räume
LINEARE Lacquered kitchen with island with integrated handles
http://www.archiproducts.com/en/products/45763/lacquered-kitchen-with-island-with-integrated-handles-lineare-plan-w-i-werkstatt-fur-raume.html
Since 1949 the family Presotto is present in furnishing and design ...
The company's furniture and design
MODULNOVA Srl
was founded in 1988 under the leadership of the Family Presotto, already active in the furniture industry since 1949. The company's mission is to produce
Kitchens Design
and furniture always innovative in the materials and production systems, and, for our
modern kitchens
, the promotion of a creative design with clean lines.
The designer kitchens Modulnova are designed with utmost care and attention to detail, finishes, accessories and assembly, in order to create valuable products.
Sophistication, style and elegance are always the
designer kitchens
and trademarks Modulnova Kitchens, Bathrooms Modulnova (created in 2000) and md HOME, new line launched in 2011 and dedicated to the living area.
The core business of MODULNOVA will remain the
Kitchen Design
from the beginning know that furnish the newspaper with a contemporary feel through new visual solutions, satisfying any desire.
Collections:
Collections of
Modern Kitchens
Modulnova are the result of years of technology innovation, research and development in order to propose a new design and furnish the everyday environment with style and contemporary.
Using trim
resin cement
also allow the creation of modern kitchens prestigious aesthetic, without neglecting the functional aspect and away from distractions, necessary for the kitchen space.
Blade
The new order and functional
kitchen design
offer new visual solutions: the volumes parallel straight lines, the synthesis of the complete new design geometries.
The wall to the column, which opens completely, houses the most
modern equipment
and opposes the central island, which is also equipped, home to the work area and the bar.
Twenty Resin
The modern kitchen is divided into compact volumes and important, emphasized by the materiality of the resin finish concrete.
The compositional lines decided characterize the program Twenty exalting the formal choices
Fly
The walls are opposed to each other functionally and structurally: on one hand the large library open and modular, and on the other the wall equipped destined to the containment.
MH6
The project stems from the desire to create a kitchen environment by
design
minimal, friendly and extremely functional: everything in its place, everything in geometric rigor absolute.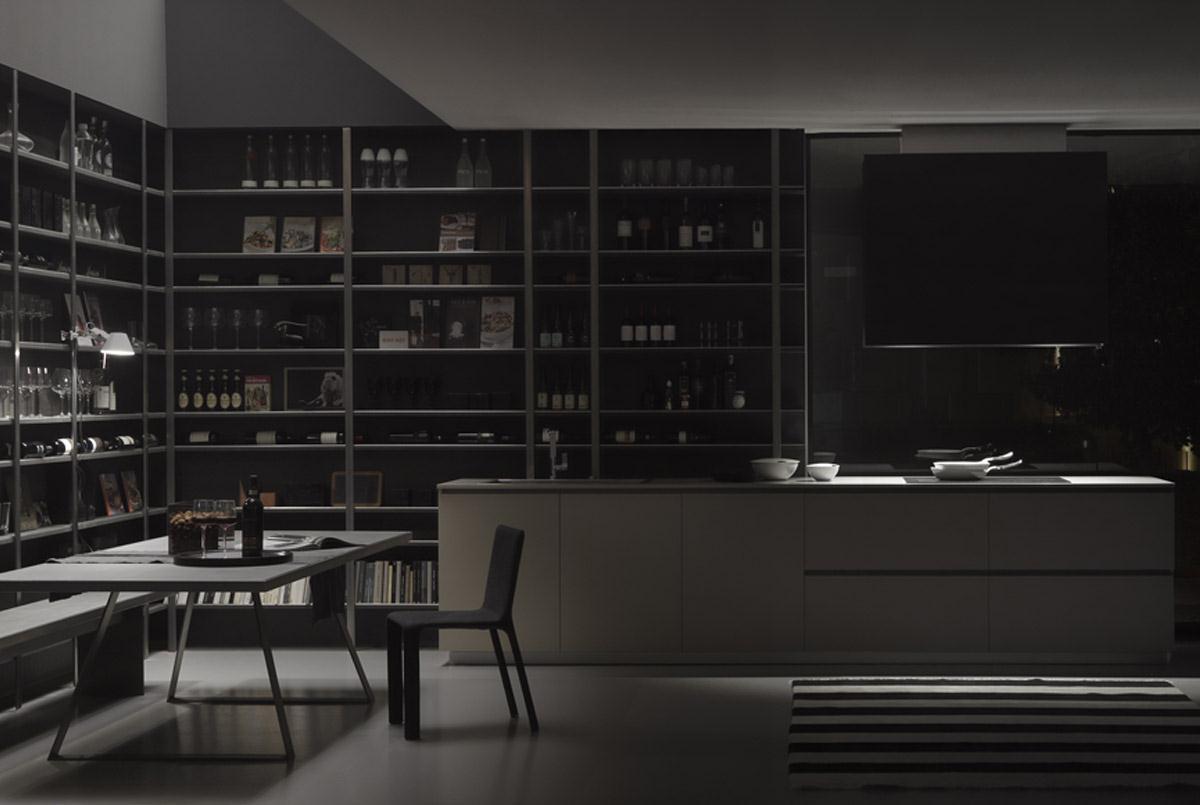 http://www.modulnova.it/prodotti-dettaglio-zoom.php?idC=1&id=33&idF=45&idP=323&p=2
Reflective Yacht Interior
Combining fluid contours and reflective, polished surfaces, this concept yacht interior by designer Adelina Popescu reflects the natural beauty in the shapes and textures of the ocean environment. Aquatic blue reflects in glossy finishes adding to the oceanic theme, while creative use of embedded linear LED lighting highlights the overall space while providing relief from the wavy interior.
Designer: Adelina Popescu
Read more at http://www.yankodesign.com/2011/05/10/reflective-yacht-interior/#UDrgP1mUzJH12Q7r.99
Kitchen design at the heart of the home
Designer: Lee Hardcastle for Enigma Interiors
Using effective materials and creating different zones, this combined kitchen/dining/living area by Enigma Interiors is the perfect hub at the centre of a home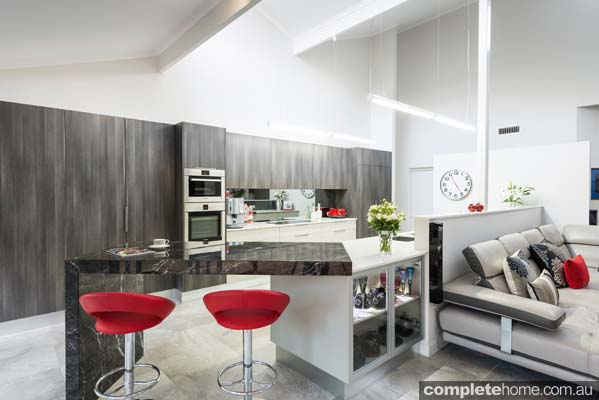 "You can tell at first glance that this combined kitchen, dining and living area is the heart of the home. All the key aspects of family living were considered throughout the design. The Grigio Carnico marble island has been added to the essastone kitchen benchtop to help differentiate the cooking and dining areas, while the wall partition on the opposite end creates a unique feature that still allows access and flow throughout the home's hub.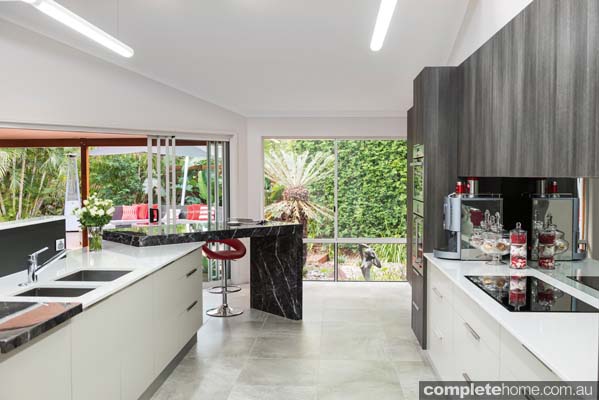 http://www.completehome.com.au/project/kitchen-design-at-the-heart-of-the-home/49106.html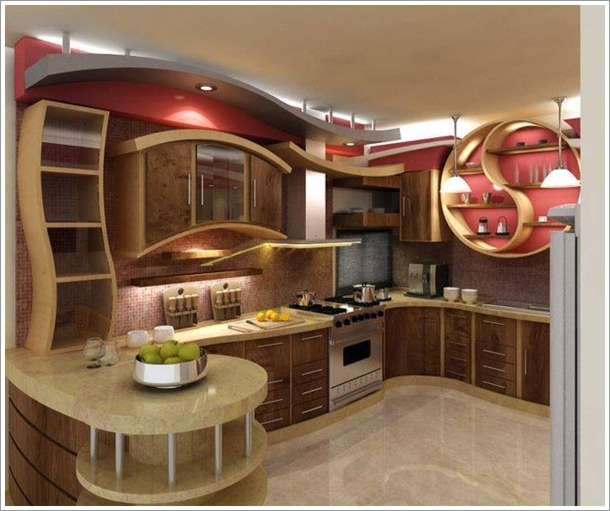 http://www.amazinginteriordesign.com/7-interesting-extraordinary-kitchen-designs/