Latest news from the school:
Our bathroom modules seem to be very popular, so don't delay to take advantage of this offer : 4 free bathroom modules (worth $800) or 50% for previous students(saving of $400)! This offer won't last long!
As you may know, Kitchen Design Academy Online became approved partner of Pebble Hills University USA and for new students, we will be able to issue a dual certificate of graduation , endorsed by Pebble Hills University. At this point in time, Kitchen Design Academy is the only partner from Australia.
Another exiting news from our academic team: we are in the process of developing an advance level, (Level 2) in kitchen design that will be addressed to existing kitchen designers or candidates with a previous certificate, including ours. There will be 5 modules, we think, that will address important issues of kitchen designing. Here are the working titles:
-M1-Working with Style
-M2-The art of Kitchen Design
M3-Kitchen and Design Principles (we need to find a better title)
M4-Kitchen Design and Creative Thinking (we need to find a better title)
M5-Success is a Matter of Design
The assignments will take two weeks as the work load will be significantly bigger than in level 1. Express your interest now and you can save 30% of enrollment fee!
http://www.kitchendesignacademyonline.net/contact/
Samuele Mazza
Samuele Mazza's Signature has been formed by his starting point as "Fashion Designer", which makes his style and ideal equation between ethics and aesthetics, in a certain sense contradictory and unexpected.
He began with Fashion and became a phenomenal protagonist in the 80's.
Too young though for such an unforeseen success, he quickly …… a peak and made clamorous decision to abandon being a Fashion designer.
Whit a hunger for new experiences he left for New York to follow his passion for art, which he had always cultivated and was inspired by, in particular photography.
In the 90's he collaborated with Mondadori where e went on to edit a series of books dedicated to "Italian Fashion". Amongst these he published Bulgari, Missoni, Versace, Ferretti, Trussardi, Ferrè, Etro…and many others (see google).
Always adding variety to his experiences, he organized many exhibitions and created costumes for some of the most important Museums and galleries Worldwide.
Simultaneously he Globe-trotted around the world and learnt 5 languages and experienced a memorable collaboration with Massimo Vignelli and Ida Panicelli where he gained a new awareness for "Set Design".
During this time he created unique props and scenography that were so unique that they were preserved after the exhibitions and not discarded.
During this period he unveiled a new inspiration "Interior Design".
He opened his first show room in 2001 called "Visionnaire home philosophy". Milan welcomed this project enthusiastically. Truly successful to the point of transforming The Gallery" into a brand name, a real style scene.
He designed collection for Ipe Cavalli, where he later handed over the brand to the company in Bologna and remained as "Creative Director" until 2010, where it became without a doubt a global success.
But a as usual creative creatures are always searching and thriving for new sap and projects, also feeling restrained he left his role as "Creative Director" for "Visionnaire" and moved into creating statement pieces called "Saint Babila" based on Italian Quintessence.
I meantime designing Public Spaces, Hotels and Shops Worldwide.
Further down the line he created a new collection of furniture, inspired by being "Outrightly Fashionable".
Focusing on his favorites Chanel and Yves Saint Laurent manifacturers of Colombo Couture by Colombo style an historical company from the northen Milan.
A whole new vision and stomping success.
In 2013 he accepted a prestigious proposal from "Four Season Luxury Furniture" to create a line using his name "Samuele Mazza-Timeless Interiors" to furthermore open a whole new show room in the heart of Milan (Via Turati).
Always keeping the ball rolling in 2013 he accepted an important collaboration to relaunch the historical brand "Murrina murano" in Venice.
Simultaneously designing kitchens for the impressive company Del Tongo, and as if that wasn't enough he took over the artistic direction of Medea Contemporary Classics.
Always driven, he recently collaborated on the set of the film "La Migliore Offerta" (The Best Offer), by Oscar winner Giuseppe Tornatore, starring Oscar winner Geoffrey Rush.
The biggest challenge that faces him is the launch of his eponymous "Samuele Mazza-Timeless Interiors" collection. A collection inspired by the 30's and the ART DECO mouvment for his collection.
http://www.samuelemazza.com/?page_id=20619
The customer satisfaction can be achieved only paying the utmost attention in our work, in the choice of material of our kitchens in respect of the land around us.

The goal of our journey is the pursuit of excellence, is the desire to improve every day, is the care put into every single detail.
Our passion for wood is combined with the constant search for new materials and the application of modern technologies. Innovation and automation of the plants are the basis of sophisticated industrial process that the company has developed to provide a product that will last over time.
Our design studio has in place all of its resources to offer a full range of kitchens a demanding consumer always in line with the latest trends.
Beatrice
An intelligent and versatile project, designed to get the beauty and minimalist elegance.
Live well, different materials match renewing in clean lines and rigorous classic woods rich in warmth.
With large work surfaces and ergonomic, flexible modules for every type of space and perfect structural organization, Beatrice combines tradition and technology, to satisfy even the most demanding tastes.
Vega
Vega is the modern kitchen that caters to the needs, the living space is the style open-space ensuring uniformity of taste and style.
The new finishes STONE BEIGE, WOOD OAK, WHITE AND WHITE SPRUCE, are the absolute protagonists of this kitchen project.
The doors with their design and material texture create a single body with the work plan in the same finishes.
The modern open elements ZIG-ZAG and the peninsula VEGA, available in all finishes, complete the compositions with functional elegance.
A name evoking beauty, the only one that can define an absolutely charming kitchen. The tradition of wood and the technology of metal merge to create a unique environment, to live the style, always wrapped by the warmth of the past.
Florence
The splendor, the aesthetics and the technique of the Renaissance revived in design and solutions kitchen Florence.
Lines that trace the majestic architecture and hiding study and thorough search for a logical space management that does not subtract anything to the beauty.
And with the best materials of today, who can endure, as the beautiful things of that glorious time.
http://www.torchetti.it/it/classico-firenze
The Smartest Kitchen Ever
The future of kitchens lies in how tech savvy and "Smart" they are going to be. Vestel Assist is a good indication how technology and electronic devices are becoming a necessary aid. This project includes smart kitchen systems and appliances connected with each other in such a way that communicate with one another and can be customized.
The highlight of the setup is the module called Assist. The device offers features like food information, recipes and data sharing, imaging, communication, audio system, etc. The touchscreen, which looks like a simple screen, but is in fact the main controller of the system. It stays fixed to its charging module with the help of magnets hidden under its surface.
http://www.yankodesign.com/2013/03/14/the-smartest-kitchen-ever/
Copper-coloured beauty: A kitchen to top
Designer: Phil O'Brien for Designer Kitchens, in conjunction with Harry Polous Architects and Leigh Boswell of Highgate House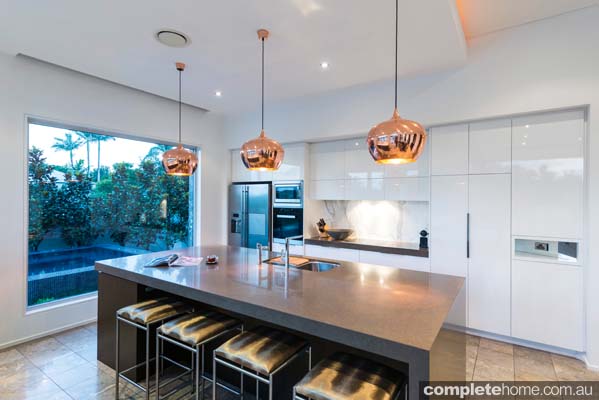 "There's nothing quite like the buzz you get from turning a tired, 10-year-old kitchen into someone's dream design. This project required a complete gutting of the existing space in order to open it up and allow it to become the natural nexus of the home. Knowing how important it was for the client to have a flow-through area, where all family members and guests have the space to eat and interact, an island bench for both work and play became a necessity.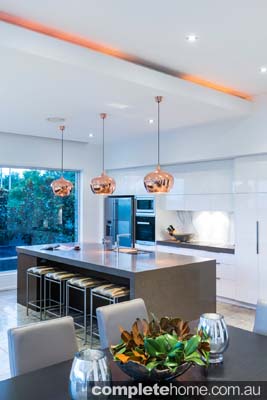 Once the space for this was designated, the rest of the design centred on functionality, storage maximisation and understated style. To enhance functionality, all the most frequently used appliances — the fridge, oven and microwave — were placed in close proximity to each other and to two large benchtops. A wall of white handleless cabinets surrounding the cooktop stretches out to the outer edges of the kitchen area. It allows for more storage and displays a beautifully sleek facade that is perfectly complemented by the rich tones of the natural materials such as timber, marble and stone.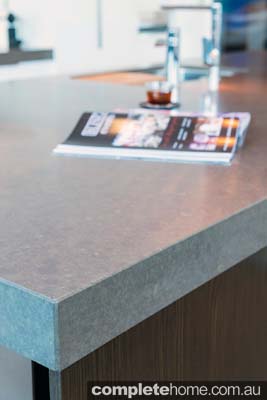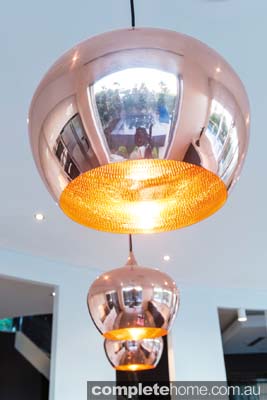 To top off this timeless combination of materials, we literally topped the 'kitchen cake' with the addition of three copper-coloured pendant lights over the island bench, which create a wonderfully dramatic effect when lit."
See more at: http://www.completehome.com.au/project/copper-coloured-beauty-a-kitchen-to-top/52617.html#sthash.GeDtOBLO.dpuf
https://www.facebook.com/Designfather/photos/pcb.714889791949455/714889281949506/?type=1&theater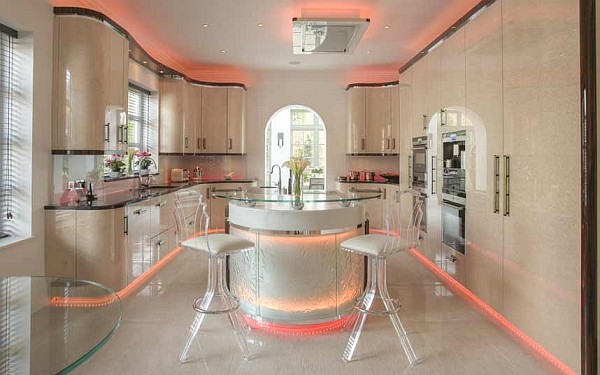 http://www.decoist.com/2012-07-18/20-luxury-sexy-kitchens-worth-drooling-over/sexy-kitchen-design-for-girls/