Classified of the week:
GB Kitchens Pty Ltd
Melbourne
$40K-$120K ote Consistent approach to customer service and design queries in client's home Measure and design kitchen plans, meeting client's budget and expectations
Freedom Kitchens Melbourne
We are looking for a customer focused Kitchen Designer, with the passion to succeed.
Industry increases, jobs are coming, be job ready and prepare yourself through our course. A reminder to our candidates that for June start, we need your enrollment form by next week. Take advantage of our most flexible fee payment: pay as you go only $200/week!
http://www.kitchendesignacademyonline.net/contact/
Lorenzo Granocchia
Lorenzo Granocchia born in Terni in 1975 and graduated in architecture at the university of Florence, since students gained significant project experiences and collaborations withprofessional firms, in particular with the studio Castiglia Associati, where he trained professionally being interested in the world of industrial design, dealing with design, installations and architecture. Today the owner of the study titled "StudioLorenzoGranocchia" located in Terni, the fields of architecture and interior design by collaborating with leading companies in the furniture, lighting and covering with a continuous research in the process of interpretation of the new trends, with shapes and solutions that characterize his ideas. Trying to interpret the new trends of 'live, creating a vocabulary essential, whose matrices are formal geometry, inspired by the primary elements, and rigorous execution thanks to a continuous and constant process of research and study.
NOBLESSE - A contemporary look, for tactile memories. the Noblesse collection is not tied to any one particular historical period, it is neither all-modern nor all-classical. noblesse neither rebels nor fawns. this collection is born out of a conscious decision to give body to strong contemporary feelings with a truly aesthetic look that making memory tangible, tactile. as if to create a form of osmosis running between the psyche and the materials used for furnishing so as to make the home a place of life and love. the conscience of being, noblesse.
http://www.archiproducts.com/en/products/85570/noblesse-solid-wood-kitchen-noblesse-solid-wood-kitchen-aster-cucine.html
The history. A brief description of the logic behind a long journey
FOUNDED IN 1978, ELMAR IS NOW A DYNAMIC BRAND WITH A STRONG PERSONALITY CAPABLE OF OFFERING EXTRAORDINARY IDENTITIES AND VALUES.
In the course of its authentically Italian story Elmar has developed in the extraordinarily and outstandingly normal way that is typical of those who have always had a clear vision of their logic, of the path they must follow. The legs of this journey have marked the growth of a cultural and of a corporate legacy that has founded its reliability on tradition, its distinguishing traits on technological innovation and its vocation on design to blend advanced functions with real emotions. In other words, each arrival has always been a new departure towards unexplored horizons. And this usually happens daily.
Elmar has always wanted, and known how, to enrich its value in a dynamic and clear-cut perspective that is continuously directed to understanding the authentic needs and the distinctive signs of evolving lifestyles.
A very personal company outlook and cultural identity able to anticipate and identify the real aspirations of customers in the best possible way. To offer comfortable settings that effuse a really contemporary charm is the company's objective.
In other words, furniture created for human beings, to comfortably share their most precious resources: space and time
@home
Precision and technical accuracy
@home reinterprets the DNA of that form called kitchen and that invokes the memory of a space to inhabit, rich in materials, taste and fragrance.
Slim
Let's think space over
Even for smaller homes such as city flats or small lofts our arrangements are cleverly developed for utmost space exploitation.
Radical
Only primary functions
Without fixed constraints and in their full formal essence that doesn't recognise or impose a hierarchy. Creating radically distinguishing spaces.
http://www.elmarcucine.com/sites/default/files/product/versions/cps_1884.jpg
Smart kitchens are ones that fool you into thinking that you have an elaborate setup, when in reality it's just a very cozy space that becomes elaborate when necessary. Nolte Küchen Dynamic Living Kitchen is a good example of this style. It's smart and elegant to look at, and fits in all the modern amenities that a couple will require. It goes from a comfy breakfast nook to a sophisticated entertainment hob whilst partying with friends, by simply rearranging the movable tables. Really Smart!
Designer: Malin Kalesse
Read more at http://www.yankodesign.com/2010/06/22/dynamic-kitchen-from-cozy-to-comprehensive/#AErKsKRodizkM4b1.99
Timber kitchen: an innovative statement
This sophisticated kitchen is proof that supporting posts and beams can be utilised as a stunning feature of one's eating space
Designer: Lee Hardcastle for Enigma Interiors
SHOP THE LOOK
Cabinet doors Laminex in Polar White CrystalGloss & Charcoal Riven
Internal hardware Blum intivo soft-close
Handles Solu G-grip 126.27.904, Artia 111.08315.301
Benchtop Brushed steel grey granite, stainless steel to island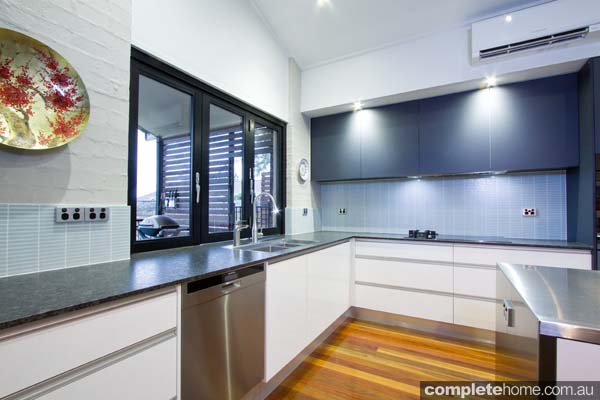 "This kitchen makes a sophisticated statement in its arrangement and celebration of materials. The structure of the design hinges on the strong timber post and beam. While sparse, there is a richness of timber in the exposed structure that gives the kitchen character. A restrained palette of charcoal and white lets the texture and quality of the materials stand out, while the handle-free design infuses it with the sleek, modern feel the client wanted.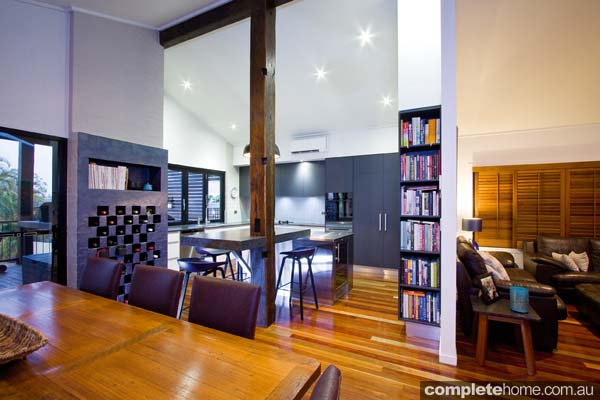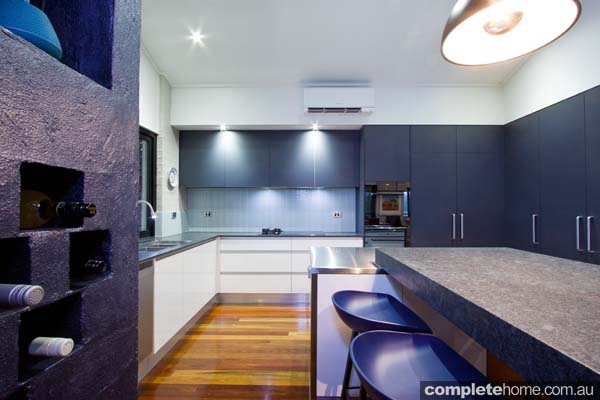 Brushed granite, stainless steel and Laminex finishes have been chosen to complement the existing wine brick wall, so the kitchen flows effortlessly into the large central living area.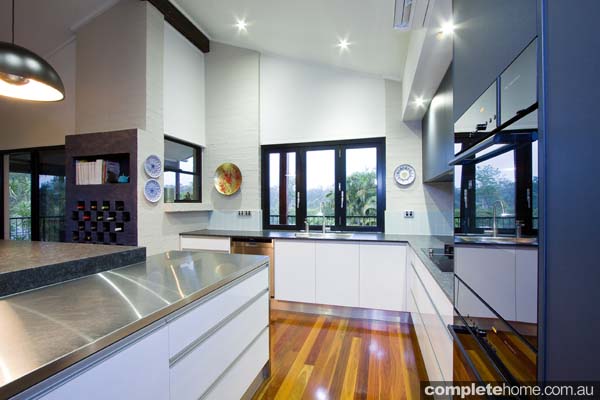 To meet the owners' cooking and entertaining needs, the layout accommodates various functional spaces, including a two-level island, long benchtops and a large pantry."
- See more at: http://www.completehome.com.au/project/timber-kitchen-an-innovative-statement/52731.html#sthash.tPPffpud.dpuf
italian architect paola navone, known for her playful and lively designs has explored a kitchen embodying the italian family and culture. focused on providing lots of space, not only for cooking but also for people to socialize and engage with each other, the timber frame wrapping around the space encourages spices, pots and utensils to be hung off- like organized clutter.
'it's not supposed to be perfect, but rather a little bit messy and ironic. just like life itself. I imagine this kitchen like a movie scene where you, as a viewer, feel drawn into the action.' a comment made by paola navone.
http://www.designboom.com/design/ikea-metod-matali-crasset-paola-navone-thomas-sandell-studio-irvine-milan-05-21-2015/