"Experienced Kitchen Designers Wanted!
Design your own income!
Kitchen designers wanted! – OTE $110,000
Join Australia's fastest-growing kitchen company!
Experienced kitchen designers with good personality and good communication skills required.
Ongoing training provided.
This is a booming industry with great lifestyle and rewards for the committed individual.
Visiting potential clients in their homes, following up enquiries from people who ask for a designer to visit. No cold calling, all leads supplied.
Working in the metro area for Australia's fastest-growing and most unique/dynamic kitchen company.
Please contact us ASAP by email or telephone for interview and immediate start."
This is a typical advertisement in the media from a kitchen company in expansion. Generally, a medium- to large-sized kitchen company will work with two to seven designers. All designers work on commission; they are not employed. Companies deliberately keep this natural selection in place so they can get the best results at no cost.
'Design your own income!' The industry commission paid to designers is 10 per cent of the value of the kitchen excluding trades. There are, of course, exceptions: some companies pay up to 20 per cent commission. Rounded up, annual income for a designer is between $80,000 and $200,000/year.
Dante Bonuccelly, Italy
Buenos Aires, 1956
He graduated in Architecture in Buenos Aires in 1979, to then launch his professional career.
In 1984, he moved to Milan and began working in collaboration with the firm Gregotti Associati, looking after the design of buildings, layouts and interiors in Europe, America and Asia.
In 1998, he founded Avenue Architects, an architecture and design firm based in Milan. IBM, Hoechst, Johnson Controls, Eni, Ansaldo, Infostrada, Philips and Vodafone are just some of his clients. He is design consultant for Dada and Unifor, with which he liaised also for the renovation of the interiors of Bocconi University.
For FontanaArte, he designed the technical lighting modular systems Linea 1 (hanging) and Linea 2 (wall) in 2009, which perfectly coexist with the architectural surroundings.
"Trim" by Dante Bonuccelly
Designed in 2007 ,Trim is considered a revolution, a new, more rational and flexible approach to kitchens and the way they are used. Space is the key element of a system devised to match the pace of present-day lives, the organization of homes, the need to mix technology and functionality. Drawers, cabinets and wall units are no longer enough. Accessorized back panels come onto the scene: a space between wall units and worktop, accessible with a Dada-patented mechanism of sliding (and disappearing) glass panels. LED lighting and power sockets add functionality to the accessorized panels of Trim's technological core. And there's more: wall units with cushioned electrified doors, base unit doors with an exclusive handle fixing system that recedes below the top, creating a discrete groove effect.
For over thirty years Zampieri designs rooms conceived to become your kitchen; the modularity of the components, the wide range of finishes and materials and the broad choice of woods gives free space to the tailoring of taste, interpreting a new way of living the kitchen that becomes a privileged place for domestic activities where cooking is just one of the possible activities.
Zampieri has 11 collections with a wide variety of choices in composition and finishes. Here are some of them:
Axis012
With Axis012, the Axis programme is modified in terms of thicknesses and includes new elements for a kitchen which reworks the values of the past in a modern key.
Y collection
Y collection was created from the desire to break classic compositional patterns overcoming the strong alignments of the base and wall cabinets.
Block
Elements full of symbolic and suggestive meaning, objects that are both concrete in the present and in the future because they are present in our past.
Passion
The kitchen as the heart of home, full of colour and charm. The linearity of the design hides the richness of luxury integrated with top functionality.
Design in the kitchen
Young designers' proposals for "up-to-date" kitchenware and furniture
DESIGN_ How can design improve an ordinary, repetitive, simple, ancient and creative gesture like cooking? Nowadays many young designers are involved in transforming, designing and re-inventing our conventional kitchenware and furniture. Below there is a selection of some really spellbinding projects.
Focusing on the relationship and the emotional bond between product and user, Swiss Japanese designer
Nadine Fumiko Schaub
questions today's consumer society which has lost the appreciation for what a product means, the value it embeds and the impact they have on our lives.
Balance
is the result of a poetic process in which the focus lays in the actual meaning and story of a product.
Miko
has an unexpected appearance and tries to rethink the concept of a western barbecue grill. First of all, it deals with the unhealthy flame that is caused when fat drips down onto charcoal. Furthermore, it is semi-portable and improves the social happening achieved when guests sit around the grill and cook together – like a table grill. Designed in collaboration with
Anna Liesch.
Since humans emerged as a species, we have processed commodities by using fire and water. Today the art of cooking is still a relatively basic discipline.
EtKøkken (AKitchen)
, designed by the Danish architect
Mette Schelde
, consists of three stations: a water station, a block station and a fire station. Together these stations set the frame, around which the processing and preparation of meals require active engagement from the individual.
'
Bread from Scratch
' by
Mirko Ihrig
is a reaction to the fact that many people don't know how food is made anymore. Fast foods and other kinds of processed industrial foods determine our daily life. Affected by our food system and our eating behaviour the knowledge of basic food production slowly disappears.
Bread is one of our oldest foods and even today it is the most essential and universal one, equally eaten by rich and poor in most parts of the world; bread has become the symbol of foods. In this project, the process of bread baking is demonstrated and is used as a metaphor for food production in general, in order to remind how the most basic foods are made.
'Bread from Scratch' is a collection of six objects that are symbolic yet functional and in each case represent a stage in the process of bread baking. The collectionconsists of a mill to grind flour from grains, a jar to cultivate sourdough, a bowl to mix the ingredients, a board to knead the dough, a paddle to handle the loaves and an oven to bake the bread. By designing the objects and visualizing the process of baking, this project raises awareness to make people rethink what they eat, encourage them to produce foods them self and provoke discussions about food production, food consumption and eating behaviour.
A dynamic kitchen design with unrivaled uniqueness
Dynamic, unique and alluring are but a few words that describe this ultra modern kitchen. The monolithic surfaces, enhanced functionality and conical bar beautifully accentuates this unique allure.
Designer: Eliza Rudkin for Lane Walker Rudkin, Staron Design Award Winner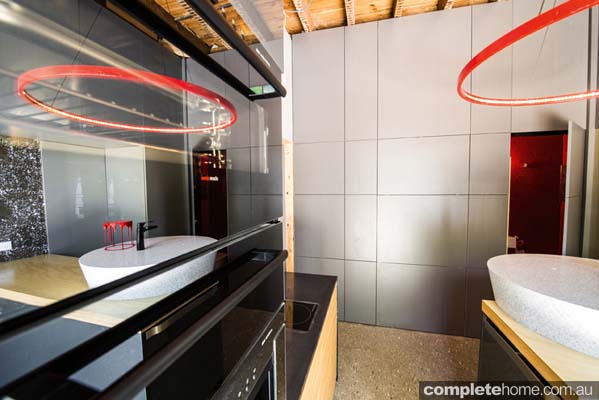 "My design criterion for this small space was to create a kitchen that maximised storage while developing a dynamic and unique design. I designed a circular conical bar to feature as the centrepiece of the kitchen space and selected Staron Solid Surfaces in the new colour Mosaic Dalmatian to create this piece. The material was thermoformed to form a circular and virtually seamless shape with no open joins, just one continuous, monolithic surface.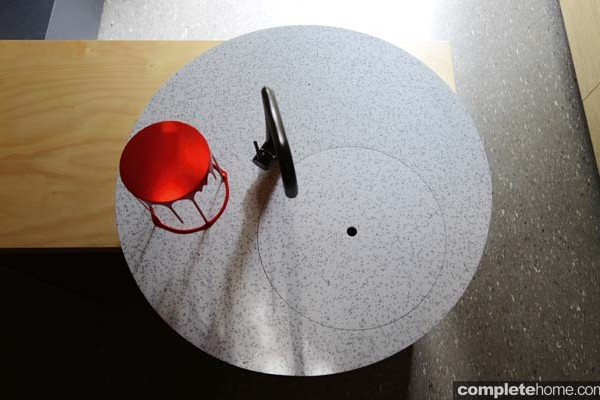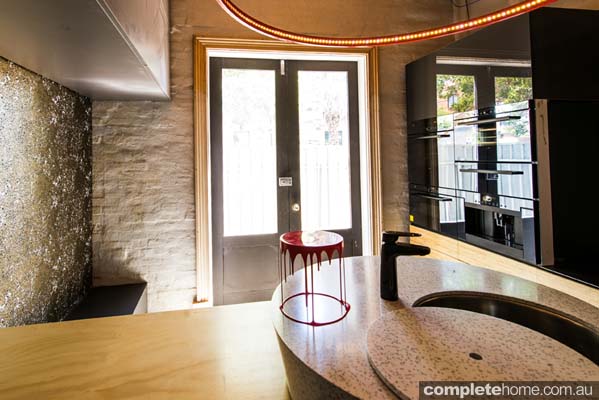 The bar was geometrically integrated to set the tone of this bespoke kitchen. Accentuating the kitchen's elegance, the conical bar is a tactile talking point and social aspect to the kitchen. The non-porous nature of Staron ensures that no stain is ever permanent so that it maintains its beautiful finish. The overhead O-Lux-1200 light fitting by sculptor, Wesley Harrop, mirrors the bar's iconic shape and sets the mood. The wet area is integrated into the top of the bar and the black accents in the Mosaic Dalmatian colour are highlighted by the complementary matte black kitchen mixer. The kitchen features integrated appliances, and a series of five VZug appliances, which form a mirrored cube.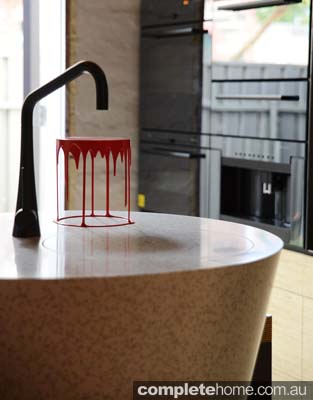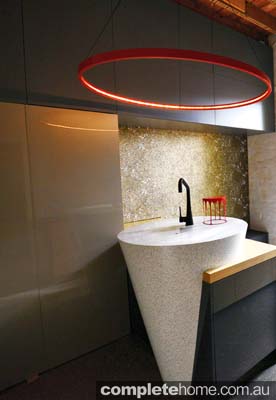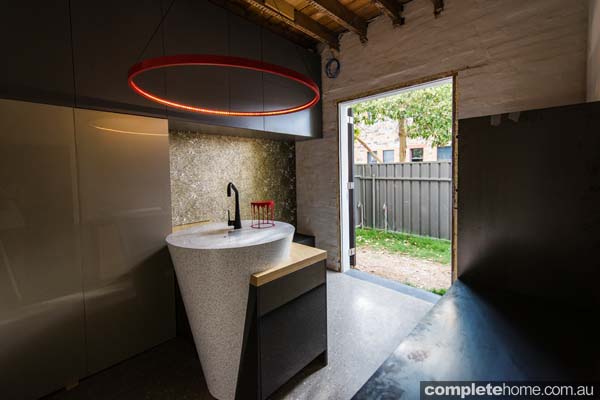 All aspects of the kitchen are visually alluring yet efficiently positioned to enhance functionality. The varied and bold colour palette including greys, golds, steel, natural timber, and the white and black enhance the unique look and feel. The result is an inviting and distinctive kitchen." -
Source: http://www.completehome.com.au/suppliers/staron-solid-surfaces-by-samsung/a-dynamic-kitchen-design-with-unrivaled-uniqueness#sthash.q36LUrip.dpuf
About Hailo
Hailo has been dedicated to making work easier and safer for generations of housewives and DIY enthusiasts ever since it was founded in 1947.
As a leading manufacturer of ladders and steps, steam iron systems and waste bins, the company offers customers a wide range of innovative products that set standards. Hailo continually gives new impetus to the market with forward-looking product innovations. Today, Hailo products are sold in more than 60 countries across the world. In Australia, their kitchen products are sold by Hafele.
Innovations are a matter of principle for Hailo – and quality a matter of tradition.
Company trademark – the red Hailo dot – stands for the ultimate in quality and safety, something that our customers can rely on. This is guaranteed by many years of experience, innovative product developments, and DIN EN ISO 9000-certified quality management system.
Innovative products – creative marketing.
As a quality brand, Hailo is a strong partner for the retail industry and actively supports its retailers with innovative advertising and sales promotions.
Hailo Built-in Technology
Built-in technology
from Hailo offers a large range of optimal solutions for the kitchen industry, stretching from fitted waste bins through fitted waste separation systems to making the most of limited space with brilliant organisation systems.
As the designer said himself, this kitchen is "designed for those who want to rediscover the pleasures of a family atmosphere, full of evocative charm, and luxuriate in moments of total peace, alone or in the company of friends".