We welcome our new group of students from Australia and New Zealand!

We are asked many times what commissions are paid to kitchen designers?
And the answer is:
If you work in major cities, you can expect to receive between a 10% and 20% commission from the sale of the kitchens you design. For Australia, this rounds up between $100,000-$200,000 a year!
Never too late to enroll!We offer 30% off from the enrollment fees for the rest of the year, there is one more starting dates : 4th of November.

This is a feed back from our graduates: "I am very happy with how the course has gone and feel a lot more confident to continue and progress in my current job. I feel my drawings have really improved and have a much better understanding of how to read other drawings. Valentin has been very supportive throughout the course. Thank you very much !
Candice, Perth, Australia"
Carlo Bartoli
was born in Milano, where he degreed in Architecture and started his professional career working on architectural projects, interiors and industrial design for furniture and consumer goods for mass production. Then his interests broadened to include architectural and environmental rehabilitation.
He designed for several companies - Arclinea, Arflex, Colombo Design, Confalonieri, Delight, Deltacalor, Ernestomeda, Fiam Italia, International Office Concept, Kartell, Kristalia, Kron, Laurameroni Design Collection, Lualdi Porte, Matteograssi, Move, Origin, Rossi di Albizzate, Sagsa, Segis, Steelcase, Tisettanta, Tonelli, Varenna-Poliform, Ycami - also taking care or the art direction for Colombo Design and Segis.
He taught at the Advanced Course of Industrial Design in Firenze and Roma and at the Milano Politechnic University and held lectures at the Torino Politechnic University.
He was invited to show his works in many exhibitions, as the
XIV Triennale
in Milano,
Plastics and Plastics
in New York,
Modern chairs 1918-1970
at the Victoria and Albert Museum in London,
Design and Plastics
in Prague,
Italian Design
in Hong Kong and Athens,
Italienisches Möbel Design
at the Stadt Museum in Köln,
Dal cucchiaio alla città - 100 designers
in Milano,
XVI Compasso d'Oro
in Milano and the monographic exhibition
Carlo Bartoli: thirty years of design
in Buenos Aires in 1997.
The Gaia armchair (Arflex) is part of the permanent collection at the M.O.M.A. in New York and of the italian design collection at the Triennale in Milan; the Sophia chair by Bonaldo was included in the collection of the Architectural Museum in Ljubljiana. The Tube sofa (Rossi di Albizzate) was awarded the IF Product Design Award for Good Industrial Design 1996 in Hannover.
The 4875 chair (Kartell) is shown in the permanent design collection of the National Arts Museum - Centre Pompidou in Paris. In the year 2000 the Italian Postal Service issued six stamps about Italian Design: among the portrayed products, the Breeze amchair (Segis), formerly awarded the I.D. Design Distinction Award, the Apex Product Design Award, the Red Dot - Design Zentrum Nordrhein Westfalen and the IF Award for Good Industrial Design.
Brera for Ernestomeda
Source:http://www.ernestomeda.com/carlo_bartoli
Scavolini, Italy


Scavolini has been producing kitchens for over 50 years. Vast experience built up over time, responding to the tastes and trends of almost three generations of consumers. From a small workshop the company has grown to major industrial status, pursuing its growth aims through all the necessary stages with toughness and determination with absolute respect for the public at large, and in harmony with the needs of its surrounding area.
Its history - a crescendo of initiatives reflecting its ability to adapt innovatively to changes in taste, lifestyle and the market and the advent of each wave of new technologies - is a striking example of corporate growth, nowadays taken as the benchmark model for the entire industry.
Initially a small workshop, Scavolini launches its business in Pesaro in 1961 with a small range of fitted kitchens, which immediately prove very popular. This is the start of the great adventure of the brothers Valter and Elvino Scavolini who, encouraged by their initial success, expand their premises and make innovations that help their business to grow quickly.
Scavolini is one of Italian industry's most modern, important production models, and its brand strategy continues to be rewarded with impressively large figures, and growing success at the international level.
Scavolini has a collection of 35 kitchen models from Modern to Classic, in 7 finishes and a wide palette of colors. Here are some examples:
Amelie
A wooden kitchen that returns to the values of authenticity, with traditional design, natural, lasting materials and innovative technical features. Elegant, prestigious and tailored to the modern lifestyle (with its island, peninsula and accessories), Amélie becomes even more inviting when combined with Decorceramica, the distinctive imitation masonry system.

Sophisticated appeal and love for tradition in a living kitchen that blends the fascination of the past with an elegant contemporary concept.
Crystal
Contemporary, sophisticated, bright. With its aluminium and tempered glass doors, Crystal opens out new horizons for functionality and personalisation in kitchen design, ready to provide a classy backdrop for the individual lifestyle, and an outstanding context for fine food and entertaining.
Home
The "Happening" line of kitchens is our response to the latest request for a kitchen that is both easy to work in and comfortable to live in: the area designated for food preparation has been concentrated in one central point, the storage areas and compartments have been efficiently arranged, the various work spaces easily double as living spaces – all of our solutions and designs focus on the expression of your personal attitude and social lifestyle.
This week product
Spiral burner cooktop designed by Alireza Alavi

At first glance you could be wondering what it is that's so special about the Spiral Burner Stove. It appears to have your average electric coil elements, doesn't it? In fact, you'll quickly notice that a bright blue flame is escaping from the curling shapes of the cooktop's four corners.

This project prioritizes flexibility and fuel economy, allowing, for instance, four small skillets or four large woks to be heated up at once. The Spiral Burner Stovetop has a double dial for each coil, one which controls the flame intensity and another for the radius of the element.
Yes, Alireza Alavi's design is for a gas stove, but one that is more adaptable to different sizes of pots. Most kitchen appliances of this variety have four hot plates of fixed diameters which dictate the types of saucepans you can use and where.
This project prioritizes flexibility and fuel economy, allowing, for instance, four small skillets or four large woks to be heated up at once. The Spiral Burner Stovetop has a double dial for each coil, one which controls the flame intensity and another for the radius of the element.
IN KEEPING – SYMPATHETIC KITCHEN DESIGN TO DESERT MODERN HOME
Architect : Matt Brew NZIA, Cantilever Architects (Auckland)
Kitchen designer : Phil Griffin (owner), Matt Brew, Cantilever Architects
Cabinet company : Marton Lee
Cabinetry : Teak veneer
A wealth of function and storage is hidden from sight in this expansive kitchen in a home by Cantilever Architects. Angled-back recessed handles disguise the nature of the cabinets, while appliances are integrated, positioned in the rear scullery or set on the inner side of the island. Additional storage is located at the back of the self-contained scullery volume.
It makes good design sense for a kitchen to respond to the look of its surroundings. But as well as echoing key aspects, another useful element can be introduced – contrast. This kitchen was designed by architect Matt Brew in conjunction with the homeowner. Brew undertook the planning and produced initial sketches, then the owner fine-tuned the design and finalised the details. The kitchen's geometric forms extend the strong, simple shapes characteristic of the Desert Modern-style architecture, says Brew.
"The interior features quite cool surfaces, such as concrete floors, concrete block walls and expansive glazing, so the owner selected a teak wood finish on the cabinetry, to bring warmth to the elongated living, dining and kitchen volume. The particular tone of this wood was also suited to the 1950s design style." Apart from exuding natural warmth, nearly every other aspect of the kitchen furthers the home's abstracted, pure-form aesthetic. "A second sink, dishwasher, prep space and open shelving are all near at hand, but kept out of sight in the adjacent walk-in scullery," says Brew. "In the kitchen, a glassware washer and oven are tucked on the inside of the island and the large refrigerator is integrated into the cabinetry in the corner."
The kitchen also offers a wealth of storage. An extended run of cabinetry, with soft-close hardware, links the kitchen to the dining area. The front and sides of the island also add to the storage options. "Countertops are in polished stainless steel, again presenting a furniture-like gleam. The island toekick has a similar finish," says Brew. "This reflects the concrete floor, giving the island a floating effect."
Photography by Jamie Cobel

Stone Italiana was established in Verona in 1979 and is today a leading-edge manufacturer of recomposed quartz and marble surfaces. Over the years, Stone Italiana's production has been a reflection of a new way of perceiving and using stone, something much like a semantic revolution. Stone Italiana has rediscovered qualities which are found in the natural world, such as uniqueness, non-repeatability and variety, yet it never tried to imitate nature. Rather, it has drawn inspiration from it to develop brand new materials that offer improved performance to an ever more discerning market. Research is Stone Italiana's way of being and interacting with ideas, design and intuitions. However, there can be no research without experimentation and this is a top priority at Stone Italiana, through all production steps, from aesthetic considerations to product performance.

Stone Italiana has an on-going commitment to producing surfaces with enhanced mechanical strength, reduced thickness, weight and always experimenting with new colours and textures, while trying out mixture compositions and grades tailored to the Customer's needs. Thus, innovation and technology are the key factors of the quality culture that has always set Stone Italiana apart.
KSTONE

KSTONE® is a collection of countertops developed exclusively for the kitchen industry, available in thirteen different shades. Stone Italiana has always paid special attention to the kitchen, because it is the soul of every home, the daily work place and the vital space of the house itself. A kitchen can also be conceived as a work of art.
KArt Gloss
KLife Gloss
KSoul Gloss
KForest gloss
KLove Gloss
Thus, Stone Italiana has created a truly unique and unrepeatable range, in which no two slabs are the same. This collection is made entirely in Italy from highly selected raw materials and is NSF 51 and Greenguard certified. KSoul, KWork, KSpace, KArt, KLove, KLife, KBlue, KBrown, KForest, KGold, KGrey, KPurple and KRose: thirteen shades that interpret the current trend in kitchen design. All materials are created in slabs measuring 305×140 cm in thicknesses of: 1.3 cm, 2cm and 3cm.
Source http://www.kstoneitaliana.com/
For the semi-industrial, light and airy look, yet warm, casual,and homey!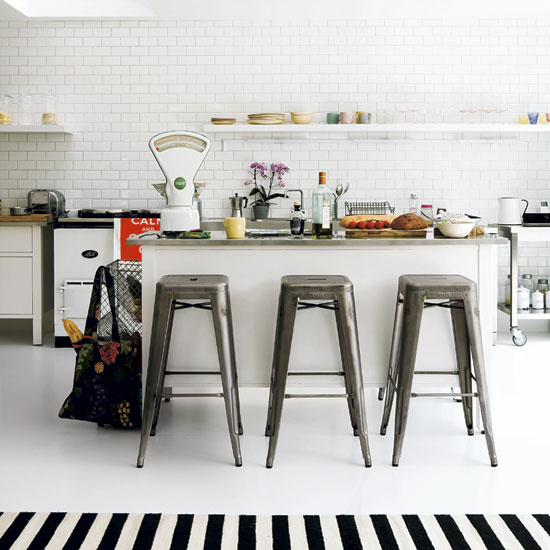 Source http://www.curbly.com/users/diy-maven/posts/9279-some-weird-but-wonderful-kitchens