We offer 30% off from the enrollment fees for the rest of the year. Never too late to enroll, there two more starting dates : 7th of October and 4th of November.
Ask here for an enrollment form.
Designer Profile


Rodolfo Dordoni, Architect and Designer, was born in Milan, where he obtained a degree in Architecture.
He has held the post of artistic director for Artemide (glass collection), Cappellini (from 1979 to 1989), Fontana Arte (furniture collection), Foscarini, Minotti (from 1998 to the present day) and Roda (since 2006) and designs products for various companies including Artemide, Cassina, Dornbracht, Driade, Emu, Ernestomeda, Fiam Italia, Flos, Flou, Fontana Arte, Foscarini, Jab, MatteoGrassi, Minotti, Molteni&C., Moroso, Olivari, Pamar, Roda, RB Rossana, Sambonet, Serralunga, The Rug Company, and Venini.
Barrique-kitchen system for Ernestomeda
Barrique is inspired by the all-Italian tradition of good fellowship, fostered by the pleasure of savouring a fine wine or sophisticated dish.
The warmth of wood, the timeless beauty of glass, and the subtle shades of bordeaux, brown and grey. All these delicate impressions create Barrique, a functionally impeccable kitchen with elegant design that combines transparent surfaces, natural stones, woods and more high-tech materials, where tradition reveals an extraordinary flair for innovation.
Barique design Rodolfo Dordoni
Barique design Rodolfo Dordoni
Barique design Rodolfo Dordoni
Barique design Rodolfo Dordoni
Barique design Rodolfo Dordoni
Company profile

The acceleration of the environmental crisis calls into question directly economic development. On the one hand due to the increased consumption of raw materials (water and energy) and the other for the growth of emissions. It should also reflect utilization life of goods, which are more rapidly reduced waste, the felling of forests and the chemical synthesis of the substances produced and used. IT IS NECESSARY TO rethink the patterns that define the society, the concepts of wealth and poverty, of space and time, sharing and selfishness, growth and decline. We are thinking about these issues, because we believe we are facing a historic challenge. A challenge that, together, we can win. First, we open a discussion on the deepest meaning of the design and its consequences on our perception of reality. Wondering if that is the ability of a designer is to create something useless for the chosen few or elaborate shapes to combine functionality and aesthetics for everyone? A democratic and humanistic concept of the design, intended as a tool to simplify the daily lives of everyone. Demode not want to be just a brand of furniture "Made in Italy", where the attention to detail, ergonomics, product quality and respect for the environment are the foundation of the design philosophy, but also the conviction that it is possible to reshape the future in a different way by rearranging and creating a new culture.

Companiy's philosophy has an 8R core:
-Redistribution, Reuse, Recycle, Decrease, Relocalization, Restructure, Recontextualization, Reevaluation
Demode has 5 kitchen programs: Meccanica, Integra, Forma, Digma, and Planca
Meccanica
Integra
Forma
Digma
Planca
This week product
There are no glues used in this modern kitchen system, reducing the amount of formaldehyde in your home. They are ninety percent reusable and one hundred percent recyclable, and they can be returned when it's time for them to be replaced, so that they can be reused by Demode, effectively getting rid of waste. The system is fantastically flexible and customizable, allowing it to work in any home. The doors can be customized in various ways, and the frames can be lacquered to fit your home décor.
The Meccanica Kitchen System is a
modern kitchen system
created by Gabriele Centazzo for
Demode
. The sleek design provides ample storage space, with cloth doors that are recyclable, stain resistant, heat and water resistant, removable, and machine washable.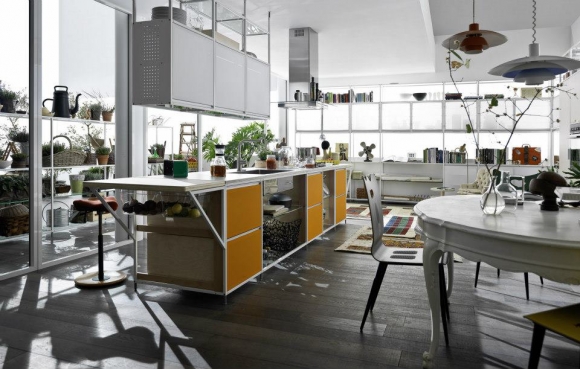 We started recently the publication of top 30 Australian Kitchen , as announced by Trends Magazine, in no particular order. Here is #10
ART DECO RENOVATION BY DESIGNER MAL CORBOY
This new kitchen is in keeping with the architecture of the Art Deco-era house. The retro look was inspired by the curves on the house exterior and by the owners' Smeg FAB32 refrigerator. The refrigerator has a 103-litre freezer with two large drawers and a compartment for ice cubes. The top of the refrigerator has a 205-litre capacity. Photos courtesy of Mal Corboy Design.
A Smeg 60cm pyrolytic oven from the new Marc Newson collection. Ovens in this collection come in stainless steel and a wide range of colours, and feature touch controls, intuitive electronics and optional telescopic shelving.
See more at: http://trends2012.tmsreview.com/Article16657/Australia/book=846#sthash.4Il5XQof.dpuf
ABOUT WK-QUANTUM QUARTZ
WK Marble & Granite Pty Ltd is Australia's leading distributor of both natural and engineered stone under the WK Stone andQuantum Quartz brands. Established in 1989 and remaining under Australian ownership, WK – Quantum Quartz provides innovative design options to the architectural and design communities as well as homeowners.

With warehouses and showrooms in Sydney, Melbourne & the Gold Coast, WK have your stone needs covered in the eastern capital cities. The showrooms provide a pleasurable viewing experience allowing you to comfortably explore all stone options for your project. The selection includes over 250 varieties of natural stone and 50 varieties of Quantum Quartz (engineered stone). A network of distributors also covers Tasmania, SA and WA.
GRIGIO QUARTZ
For its casual restaurant vibe, it's relaxed open-plan finish and it's mix and match finishes – and how the dining 'zone' is defined by trendy bar-style pendant light, sexy tableware and a monochrome rug. So if you're looking for kitchen colour ideas, it's all about being brave with pattern!

Great to be sitting at that table with friends and a large glass of red wine…



http://blog.kitchendesignguy.com/