Exciting news from our academic team! Due to massive demand from our candidates, this year we will develop another set of modules design for up skill exiting kitchen designer practitioners. The new modules will be at advance level and they will require prior experience. They will stimulate creative, lateral and critical thinking as well as problem solving through design means.
New group starts in 6 of April and we need the enrollment forms by next week.
Enroll now at current level and be prepared for advance level! Ask us for an enrollment form: http://www.kitchendesignacademyonline.net/contact/
Stefano Cavazzana
Born in Mestre in 1966, he graduated with honors in architecture from the University Institute of Architecture in Venice.In his study in Mestre deals with architecture, design and graphics company.
"Among the infinite criteria that contribute to the evaluation of an object as a whole, one certainly important is that referring to the possibility of driving the design towards an ever higher degree of synthesis in an attempt to eliminate all that is superfluous from the point of view of the functional and constructive , and thus obtain a formal outcome of great simplicity. This rigorous design becomes an integral part of a poetic, like, personal, intimate, rigor that does not prevent the changing of the signs, the contamination of languages, the quote, together with a desire to deepen dialogue with the past, in assiduity memory that gives richness of meaning elegance produced inevitably raise.
Moral responsibility and creative designer has become heavier, the new rules are to be found, explore new possibilities, making the game more subtle and poetic language, enhancing the ability of the artistic object or to be heard without shouting, offering a listening deeper under a discreet presence. It will, in short, not to exhaust the dialogue, to get more permanence, more sense or perhaps more simply "to communicate messages of curiosity, amusement and affection."
Line K for Zampieri
Axis 012
Galasstone for Zampieri
http://stefanocavazzana.com/glasstone
Long lasting topicality, warm emotions, mediated simplicity, stimulating solutions: all of the ingredients for a contemporary home can be found at Vitali, day after day. Carefully balanced, perfectly co-ordinated, proposed in infinite different ways, to give life to exquisite rooms created with impeccable taste.
Natura
The excellence of made in Italy design, a high range project that stands for the wealth of chromatic and aesthetic innovations, for the wide modularity and for materials with a strong personality like material aspect, stainless steel, matt and glossy white. Kitchen systems characterized by simplicity and elegance for a refined taste and consistent values for the conceptual design kitchen-living room.
Tekna
Infinite possibilities of couplings and finishes, areas equipped of control and worktops of various materials. A perfect equilibrium between the present time and function, proposing you sew some of value, studied truly in the minimum particulars. Columns sytems that make the Tekna project more flexible.
Krea
A kitchen environment designed for users who seek quality and appreciate details and search for products capable of expressing identifying values.
Syntesi
The well-arranged space within the house, where most innovating technologies and advanced solutions have been devised of late. This kitchen project is in keeping with this conception, and is designed to fit all lifestyles, all needs, and all tastes, and to satisfy one's vision of space.
Classic collection
Ginger
The contemporary classic. Ginger is a collection that takes care of what you do every day in the kitchen, an emotional yet ergonomic product. A target that understands and appreciates the emotion of a unique design with a strong character, the result of know-how and skill that Ginger expresses like no other product. An important and elegant classic, the rite of hospitality in a kitchen that is increasingly becoming shared space and open onto the living room. A strong personality, perfect for a kitchen that takes its place at the centre of the home without having to hide itself.
Preziosa
Aesthetic is matched with function. Form and content, together, to create products that help us to live better.
http://www.vitalicucine.it
SmartFridge
FoodPlus is a smart refrigerator with sensors fitted into the door handle. The sensors sync with a Smartphone App and help you know the freshness of your food. The fridge is smart enough to keep an update on what is stocked in it. Read on to know how it works…
Before purchasing food: You can make a list of ingredients using the App, FoodPlus will automatically double check the current stock in fridge and report if you are duplicating any item.
While purchasing: Reconfirms stock in fridge via the FoodPlus APP. ?You can view the amount of pesticide residues on the produce and its freshness using the App and a Smartphone equipped with sensors.
After purchasing: When stocking the food in the refrigerator, the refrigerator keeps an account of what you are loading in.
Depending upon its freshness, FoodPlus will automatically remind you to cook stocks that are getting stale.
Designer: Yun-Chen Tsai
Read more at http://www.yankodesign.com/2014/05/09/smartfridge/#3EWtMwCld1HAtxwQ.99
Trends New Zealand are excited to announce the first category winners in the Trends International Design Awards 2015 for Kitchens.
Congratulations to our two category winners: Strachan Group Architects (Architect-Designed Kitchen) and Poggenpohl – Akzente (Imported Kitchen).
This kitchen in a new home takes centre stage – it offers a 360° view of the indoor and outdoor living areas. To provide a commercial look, modular Arclinea stainless steel cabinets are teamed with birch timber veneer. The design is by Dave Strachan, Strachan Group Architects, with Rachael Rush.
http://trendsideas.com/articles/5831822591427399201/photos/1315367361427399194
This Poggenpohl kitchen by designer Lara Farmilo is constrained by a stairwell to the left and a step-down at the front. The cabinetry is set in and around the stairs, while the island and bar stop short of the change in floor level.
http://trendsideas.com/articles/7689244791426160353/photos/4021622011426160301
Les Angles by SMARIN, France
As the Livingstones and Dunes, Les Angles are at the same time a seating solution and structuring elements for living spaces. They form a set of geometric cushions which easily fit together to transform in seats. A new furniture collection of 8 elements held together thanks to metallic ties. Together they are a flexible pavement, able to cover the floor, the ceiling or the walls. Thanks to the wool properties, they then become a remarkable insulating and soundproof structure.
"My perception of the sculpted waves of the Mediterranean Sea led me to the plane structures of the quasicrystals, or Harmonia Mundi's representations."
http://www.archiproducts.com/en/products/182939/wool-armchair-cushion-les-angles-smarin.htm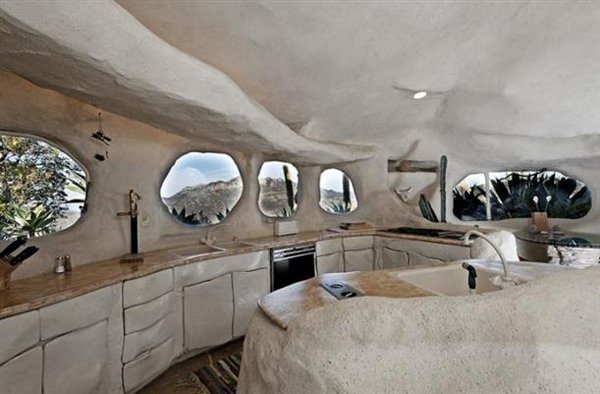 http://homedesignlover.com/kitchen-designs/unusual-kitchens/