What makes a 'good' kitchen?
A successful kitchen is one that fulfils both functional and aesthetic requirements. It will be laid out in a way that makes work as easy and effective as possible, will be designed in a way that will be safe, and will be finished with appropriate materials on floors, walls and ceilings, on cabinets and benchtops. A well designed kitchen, in simpler terms, is one that's both a pleasure to look at and to work in.
Kitchens as a social hub
No matter what the occasion, people always tend to gravitate quite naturally towards the kitchen like moths to an exposed light bulb. Any successful kitchen must have adequate space for several people to congregate and be social. Compact kitchens are most successful when they open to an adjoining family (or casual living) room where family and friends can socialise without leaving the cook feeling isolated. Even the large traditional country kitchen had a relatively compact work area with a table and chairs nearby.
http://www.build.com.au/how-design-kitchen
Want to design beautiful kitchens and make people happy? Enroll now:
http://www.kitchendesignacademyonline.net/contact/
AquiliAlberg
Ergian Alberg, Laura Aquili / Milan / Italy
Founded in 2006, AQUILIALBERG des-art-chitecture is a visionary and innovative international architectural and design practice based in Milan, Italy, with extensive experience in the fields of architecture, urbanism, infrastructure and design on different scale...
From 1999 they worked on various projects in Amsterdam, Rotterdam, Milan, Rome, London and Beijing, gaining experience in the fields of design and architecture @ Zaha Hadid, OMA (Rem Koolhaas), UNStudio (Ben Van Berkel & Caroline Bos), ONL (Kas Oosterhuis & Ilona Lenard) and Massimiliano Fuksas.
AQUILIALBERG combine a multicultural approach with uncompromising implementation of high-quality design and architecture. The dynamic nature of the practice enables the exploration of new territories and the adaptation to future challenges using cutting edge digital design platforms and technological production techniques.
TRON DESIGNS CORIAN® FOR ERNESTOMEDA
Corian® kitchen with island, design by AquiliAlberg (2011)
Tron designs Corian® - The kitchen and dining area has been produced with a special combination of DuPont™ Corian® techo-surfaces, which incorporate a high-tech electroluminescent film with great visual impact. Creativity and innovation meet design to generate a concept of immense expressive strength. The entire installation is an original project providing an amazing set that immerses users in the digital universe into which Sam and Kevin Flynn, the two main characters in the Disney 3D adventure, are catapulted.Ernestomeda proposes a visionnary and experimental project including a free standing kitchen island, a modular shelving system and a table. AquiliAlbergdevelops an alternative vision of a residential space where the vital interaction between the various elements, as in a natural ecosysytem, creates a flowing interplay of reactions and adjustments. The shape is moulded, curved and formed by the actions of its own constituting elements which are, in turn, influenced by the systemic variations. To meet functional as well as aesthetic needs, the shelves and the cabinet, which feature sinuously curved and undulating doors in DuPont™ Corian®, are vertically alternated and repeated, creating a scultpural 'wall' effect, modular yet continuous. The table is aligned with the dynamic language of the whole project and, most of all, of the kitchen island, to which it is visually linked.
http://www.archiproducts.com/en/products/65796/corian-kitchen-with-island-tron-designs-corian-ernestomeda.html
WORLD LUBE
The story of Lube is the story of a dream tenacious, forward-looking, made of commitment, professionalism and business intelligence.
Born in 1967 thanks to the intuition and experience of the two founders, the company is immediately noted for the quality of products and resourcefulness.
After a few years he is already well-established and recognized brand in 1974 it became "LUBE kitchens" and begins prodigious expansion, increasing both its production capacity and technological research.
In 1993 the company reorganized constituting the Group Lube and continuing to grow steadily, to reach the prestigious position it occupies today, among the top three Italian manufacturers of kitchens, first as a number of kitchens produced each year.
Currently the heart of the company is a modern factory, the extent of which occupies an area of ??100,000 square meters, of which 75,000 are covered, where there are over 500 employees.
Present in the Italian territory with more than 1,600 stores and continues to expand in the international market, Lube continues to be at the center of its corporate philosophy the same principles as when it was founded, as evidenced by the important certifications obtained in the course of the years: attention for man and for the quality, functionality and safety of the environment that he lives;
respect for the environment in the choice of environmentally-friendly materials;
the integration of design and technological innovation, customer care, both for the excellent value for money products for the after-sales service fast and efficient.
For this choose a kitchen Lube means entering a world built around the man, his needs, and in harmony with the environment that surrounds him.
Contemporary collection
NILDA STONEWARE
Something new arrives in the kitchen: the most elegant design meets the most resistant materials.
The doors of Nilda are porcelain, a special material.
Practical, valuable and recyclable, designed to be indestructible.
Designed to withstand heat, impact and chemical resistance.
Made to last over time, ensures perfect hygiene remained unchanged in its beauty.
For a kitchen to live in all its amazing features.
ADELE PROJECT
A kitchen design pleasant to the touch but very wear resistance, with large volumes that give a wide range of composition.
The natural beauty of the wood and the wide range of lacquered colors make Adele a kitchen that knows how to give the suggestion of the pure material.
CREATIVE
Geometry in motion that make it unique in your kitchen.
CREATIVE is a program of furniture for those who want to design and think about your space so personal and so unique.
Games of colors, materials and shapes for endless creativity.
Traditional collection
AGNES
We find ourselves in the place more welcoming of the house, full of scents and memories.
Meet with your family and friends to experience moments of genuine friendliness and rediscover together the simple things of the past, under the sign of hospitality.
A concrete plan for those romantic tastes.
The choice of solid wood, old material, valuable and sturdy, comes in different finishes to satisfy the most demanding tastes and last a long time.
http://www.cucinelube.it/it/cucine-classiche/agnese/
FUTURISTIC KITCHEN
Gorenje KÖRTING Italia | Ora Ito White Collection
All-in-one Kitchen, design by Ora- Ïto
FUTURISTIC KITCHEN. Today, Gorenje, one of Europe's leading manufacturers of domestic appliances is combining advanced technology with exclusive, distinctive design and high quality. With its innovative, technically perfect, stylish and environmentally friendly products Gorenje aims to become the most innovative, design-minded creator of home appliances in the world. To make the exclusively designed stylish appliances more accessible to a wider audience, Gorenje started to collaborate with young French Designer Ora-Ïto. The result of this cooperation is the Gorenje Ora-Ïto Collection. First in black, now in white colour, with magic power of light. Inspiration of light. Simplexity. Simple and complex. With unnecessary surplus taken away, only the clean design lines remain. The simple design that surrounds us today and tomorrow. Simple clean lines mirror design for the future when vision becomes reality. White. Or as the designer himself refers to in his language: Le blanc! It captures the entire light of the world. Its purity and simplicity reveals every detail. Associated with white, design attains special meaning. Light derived from fusion of all
colours allows no mistakes. The appliances of the special Gorenje Ora-Ïto Collection are therefore clad in white. There is nothing in excess, everything is here for a purpose, pampering and flirting with light and touch, and carefully outlined efficiency. The kitchen of whiteness provides each person with endless individual choice of articulation. He who thinks in colour will select white background. Only such setting can provide endless variety of tastes and odours, reality and imagination. In such kitchen it is possible to dream in any colour. With magic power of light! Think colours. Choose white.
http://www.archiproducts.com/en/products/19836/ora-ito-white-all-in-one-kitchen-futuristic-kitchen-gorenje-korting-italia.html
How to create a kitchen that is warm and inviting
Creating a kitchen which was inviting, functional and complimentary to the curvaceous nature of this house was no easy feat – although finding the right surface to make this kitchen designer was easy.
Designer: Paul Harders, PA & AM Harders Cabinetmakers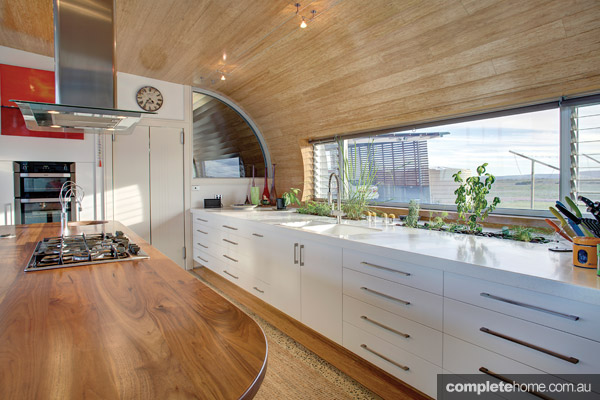 "The project, from the initial design phase through to installation, presented an incredible challenge. The passion and foresight of the owners and the architect provided an exciting canvas to begin with and, in this regard, it was an absolute pleasure to work on. The design criteria for this space was to create a kitchen with clean lines that worked with the curved bamboo wall. A mix of finishes had to work together harmoniously to create warmth, design and function simultaneously. With the kitchen space being vast, we designed an island featuring a timber benchtop with a distinctly nautical theme. For the benchspace that abutts the wall, we needed a benchtop surface that allowed long lines with no open joins due to the length of the space. We selected Staron® Solid Surfaces to create a 5.6m-long benchtop with a smooth continuous finish. The integrated Staron® sink and drainer board add to the clean lines with no open joins – just one monolithic piece for easy maintenance and cleaning. The client also wanted a herb garden within the kitchen space, so we continued the Staron® to make a well and create an integrated herb garden made entirely of Staron®. The client can use their favorite herbs as they cook, directly from their kitchen bench. The crisp colour of the Sanded Cream benchtop also complements the bamboo wall and timber island benchtop beautifully. The wide window works as a piece of artwork that brings nature into the home. The satin chrome cupboard handles and polished concrete flooring also add to the mix of finishes that work well together to create an inviting, bright kitchen space that is easy to use and maintain."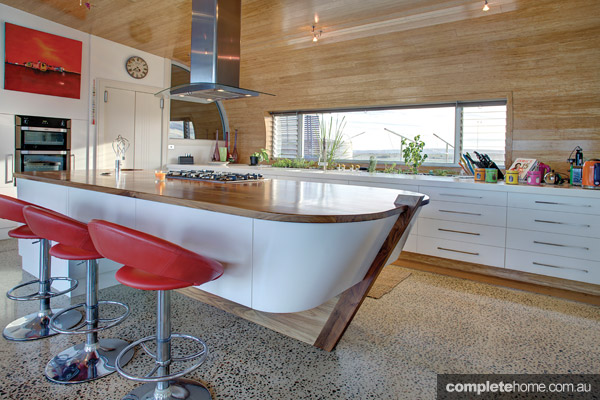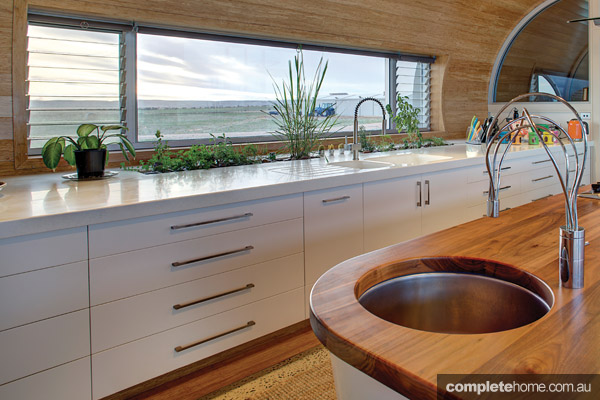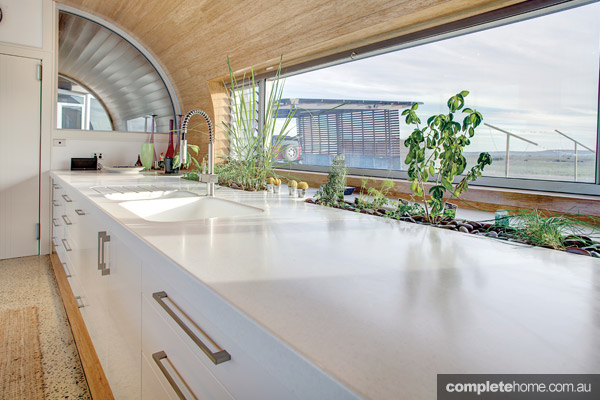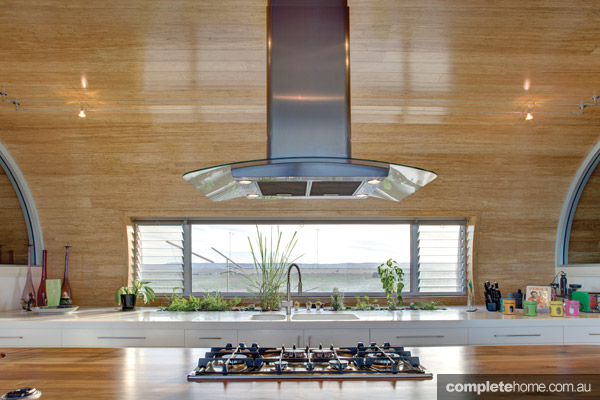 - See more at: http://www.completehome.com.au/suppliers/staron-solid-surfaces-by-samsung/how-to-create-a-kitchen-that-is-warm-and-inviting#sthash.Y3QEuoPT.dpuf
The purity of water, the energy of stones, and the warmth of wood: Nature's poetic language becomes the source of a pleasurable new approach to well being.
NEUTRA is an original collection of bathroom furnishings and fittings whose harmony of shapes and spontaneity of materials reconcile the body and mind to the most authentic rhythms of life. Sinks, tubs, shower floors, and shelving all manifest contemporary design, the tiles vaunt refined textures, and the design accessories are carved from rare and precious woods. These are the result of an inspired dialogue between natural materials and evolved technologies, between a diffuse appeal to the senses and modern functionality.
NEUTRA is a brand of Arnaboldi Angelo Srl, an historical company in the stone industry, specialized in supplying and processing marble, granite, onyx, stone and quartz. Established in Cantù (Como) in 1880, the firm sound going concern is granted by the strong commitment and management skills of Arnaboldi family that has run the company through fourth generations.
http://www.bathroomgallery.com.sg/dt_portfolio/neutra-design/
All Black Kitchen Kitchen of the Year
Behold House Beautiful's all black Kitchen of the Year in the 2014 San Francisco Designer Showcase house, a 1920s mansion with a view of the bay.
Opposites attract. So it shouldn't come as a surprise that the mainstream press has begun to call the kitchen color shift — from all white to all black — a trend. For bloggers like me this is hardly news. Back in March of this year, my
Dark Kitchen Drama
post, documented the all black kitchen and nearly black kitchens I'd been seeing, including a designer beauty in Sweden. Modern all black kitchens have been around quite some time as four black kitchen posts (below) also show.
http://www.housebeautiful.com/kitchens/dream/2014-kitchen-of-the-year#slide-12
http://www.atticmag.com/2014/10/all-black-kitchen-of-the-year/
http://www.iseecubed.com/comfortable-and-the-most-unique-kitchen-youve-ever-seen/